9 Ways for Shopify Merchants to Level Up Their Pinterest Game
Topics Covered:
Here's a secret you may not know: The ideal marketing channel for your Shopify store is not necessarily the one with the largest user base. In fact, the key to successful marketing isn't casting your net far and wide — instead, it's all about finding the right audience to engage with your content and, ultimately, click the "check out" button.
One powerhouse marketing platform to explore is Pinterest. If you're looking for ways to turbocharge your Pinterest efforts or simply get started with the channel, you've come to the right place.
Why Pinterest?
While 400 million users may seem minuscule compared to other social media behemoths like Facebook, Instagram, or TikTok, it's nothing to scoff at, especially when you look at Pinterest's engagement metrics:
98% of Pinterest users have tried new things they've discovered on the platform. 

Pinterest users who are active on the platform weekly are 75% more likely to say they're always shopping. 

41% of Pinterest users have household incomes over $75,000.
Long story short, Pinterest users are not only engaged and have high purchase intents, but their purchasing power is also massive. As an ecommerce marketer, what more can you ask for? Here are nine tips and tactics to help you level up your Pinterest game.
#1: Download Shopify's Pinterest Integration
Pinterest is such a powerful marketing channel that Shopify even built its own Pinterest integration, making it easy for Shopify merchants to target Pinterest's discovery-hungry users.
That's why the number one way for Shopify merchants to set up their stores for Pinterest success is to download the integration — check it out here
From there, we recommend you apply to join the Verified Merchant Program, which aims to help users buy from Pinterest-vetted brands. Upon becoming a verified merchant, your pins will appear when users are searching for products or related pins, and you'll also get a "Shop" tab on your profile where your products will appear.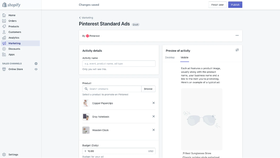 Plus, who doesn't want a shiny blue badge that immediately ups your credibility?
#2: Create a Content Plan
The key to Pinterest success is pinning regularly. So, rather than only creating Pins when you have five minutes to spare, we recommend creating a content plan where you map out what assets you need, what type of pins you're creating, and what board you're saving to.
Pinterest offers a ton of different types of pins — which, we agree, can be overwhelming — but having a healthy mix of pin types can keep your content feeling fresh rather than stale. It's also a great way to attract users with unique preferences for content types:
Rich Product Pins contain your product price, description, and link to the product page on your Shopify store. (These are created and updated automatically once you've downloaded the Shopify-Pinterest integration.)

Infographics are a beloved staple of Pinterest and a great marketing tool to disseminate information in an easy-to-digest way.

Short-form videos are becoming more and more popular.

Idea Pins let you create, edit, and post multi-page videos to your profile.

Blog posts and ebooks are also commonly found on the platform, typically in the form of a teaser or snippet that links to the actual resource.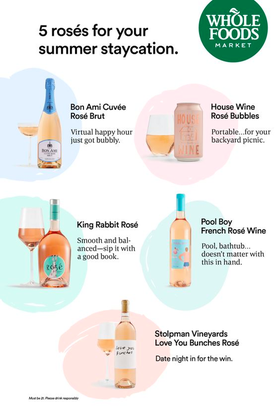 Beyond just determining what pin types make the most sense for your Shopify store, you'll need to determine what topics you want your Pinterest content to cover.
Ask yourself:
What does my target audience want to learn?

Are there product tutorials worth creating?

What recurring themes or content types see the most engagement on other social media platforms?

Are there any seasonal events or holidays I should create content around?

How can I repurpose my best-performing content on other platforms visually for Pinterest?

While you can link different pins to the same URL multiple times, we recommend creating different pin images, so you don't spam users with the same piece of content over and over again.
#3: Invest in Your Visuals
Just like Instagram, Pinterest is, first and foremost, a visual platform. A significant chunk of your efforts will go toward creating eye-catching and visually appealing pins.
Rather than just posting a stock photo as the pin image for a blog post, we highly recommend designing something a tad more attractive. Here are some tips to help you out:
Create a collage of various images in one pin.

Use a tool like Canva to jazz up your images.

Make sure your pins follow Pinterest's specs.

Add borders or small decorative elements to instantly elevate your visual.

Consider purchasing Pinterest templates to save time.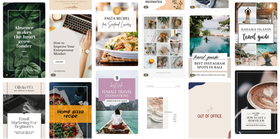 Here are some best practices to create high-performing pins:
Use vertical images, ideally with a 2:3 aspect ratio. (That's why infographics work so well on the platform.)

Prioritize product or lifestyle shots that prominently showcase your brand — you want users to understand what you're offering immediately.

Add branding elements to your visuals, such as a logo, but try to keep it subtle rather than garish.

Avoid putting key elements in the bottom right corner (because that's where Pinterest's product icons go).

Use text overlay (aka copy in your image) to summarize what your pin is about. Try to keep it concise to make it readable on mobile.
Going for video pins instead of image-based ones? You're going to want these pro tips:
Make sure you hook users within the first few seconds.

Keep video pins between 15 seconds and 1 minute long. Video ads, on the other hand, should be a little shorter at around 6 to 15 seconds.

Show, don't tell — because users will click on videos with the sound off, your video pins should be able to convey their message without audio or dialogue. (Try using a text overlay or captions instead!)

Optimize your cover image. Users should be able to tell exactly what your video is about without having to actually click on it.
#4: Make the Most of Pinterest Boards
Pinterest works as a massive mood board, meaning things can quickly get out of hand without some organization. Enter Pinterest boards: the best way for users and brands alike to organize their thoughts and content.
The way you group your pins will ultimately depend on your content strategy, but most brands organize their boards either according to themes (e.g., happy hour looks vs. brunch outfits) or types of pins (e.g., videos vs. blogs.) There's no right or wrong approach, as long as you're making it easy for users to find precisely what they need.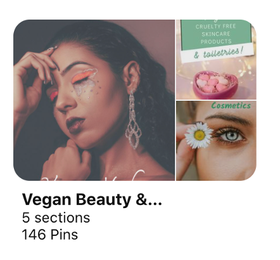 If partnership marketing is part of your overall strategy, consider creating a collaborative board where you encourage influencers, industry experts, or other designated users to add pins to. Alternatively, you can find high-performing group boards to contribute to, which require less effort than trying to set one up from scratch.
Want to take it one step further? You can invite your top customers to a private board, which serves as an exclusive space where you can share ideas, inspiration, or sneak peeks.
#5: Optimize Your Copy
While Pinterest is primarily a visual platform, copy still plays a big role in whether your content gets in front of your target audience.
Here are some ways to optimize your copy:
Opt for clear titles (up to 100 characters) and descriptions (up to 500 characters).

Use relevant hashtags.

Include a clear CTA.

Add long-tail keywords to your descriptions but try not to awkwardly cram them in.
If you're targeting multiple countries, make sure to create separate pins for each of them so your copy can be translated.
#6: Study the Data
We can't overstate the importance of strong data for those looking to win at Pinterest. Similar to other social media channels, your Pinterest account provides a wealth of data in terms of who's interacting with your pins, buying your products, and watching your videos.
Here are some questions to keep in mind when studying the data:
Are there trends in terms of what paid or organic content resonates the most with users?

What are your top pins?

What are your most popular boards?

Do particular pins or boards receive more engagement, impressions, pin clicks, or outbound clicks?
From there, you can use your insight on the best performers to optimize your Pinterest strategy and content moving forward.
#7: Use a Scheduling Tool to Stay Active
🙋‍♀️ if you agree that one of the biggest challenges of implementing a social media strategy is consistent posting. The Pinterest algorithm rewards regular pinners, too — the platform values consistency over volume, and experts recommend no more than 25 pins a day.
Some tools — including Tailwind, Buffer, and Viraltag — can help by automating your posting process. 
#8: Repurpose Your Existing Content
Content creation is hard, especially when your marketing strategy comprises a dozen different platforms, all with unique best practices and specs.
Here's where the mantra of working smarter, not harder, comes in: Rather than creating new pieces of content for Pinterest, you can easily repurpose existing content. Pinterest's newly introduced Idea Pins, for example, are a great way to reuse your Instagram Reels, YouTube Shorts, or TikTok ads — it even offers similar transitions, stickers, text overlays, customizable colors, and effects.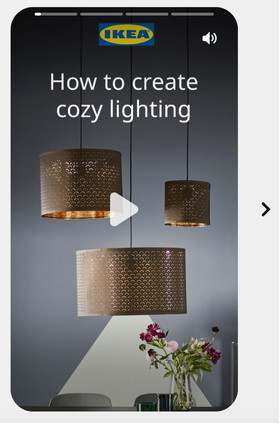 Pinterest recommends using Idea Pins for:
Creating step-by-step guides

Curating a collection of products

Sharing your brand story in a new way
#9: Say No to Link Shorteners
Link shortening tools, such as Bitly, are game-changers for organic social media (especially if you're adding UTM parameters to URLs — which you should be doing!). However, experts say that direct links to your Shopify store in Pinterest descriptions will yield better results when it comes to traffic and conversions.
P.S. This should go without saying, but triple check your links are active and load quickly. Make sure your pins match your landing page's content to ensure a seamless user experience.
Level Up Your Other Marketing Efforts
It's clear: With its pool of highly engaged users, Pinterest is a must-have marketing channel for Shopify brands.
But remember: None of your marketing efforts for your Shopify store should exist in a silo. To create a customer journey that truly drives conversions, you need to make sure all your ads, emails, and organic social media efforts work together as seamlessly as possible and move shoppers further down the funnel.
For that, you need an all-in-one marketing platform like AdRoll. Our AI-powered Pinterest ad management solution can help you with everything from brand awareness ads to retargeting emails — in other words, everything you need to keep a shopper engaged as they go from the awareness to consideration to conversion stages. Download the AdRoll app for Shopify merchants to unlock new growth.
Last updated on March 17th, 2023.