Power Up Your
Holiday Marketing
The race to holiday revenue is on! Complete each level to generate brand awareness, maximize budget, and create a campaign your customers can't ignore.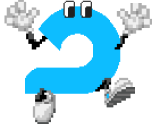 Holiday Marketing Hero
The ultimate strategy guide to 2023's busiest shopping season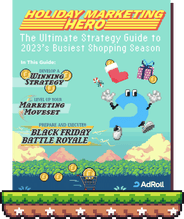 Start Strategizing Now — Before It's Game Over
Most shoppers won't start thinking about the holidays until late fall. But for many businesses, the most wonderful time of the year starts now. 
The average customer requires 56 touchpoints before making a purchase, which means marketers need to get in front of ideal shoppers months before peak shopping season. Don't know where or how to begin? We'll walk you through each month of holiday marketing prep, execution, and follow-up to keep you on track to crush your 2023 goals.
Top Players in Holiday Marketing
For marketers, navigating the holiday shopping season is a lot like playing a video game: You define your mission, set your strategy, and journey toward the finish line while overcoming obstacles.
With the right planning, skills, and a little help from experts along the way, you can beat the game — which means more revenue and a stronger business foundation for the coming year.
Watch our North American and Australian webinars that bring together marketing experts from AdRoll, Duckfeet USA, Onewheel, Searchspring, and Yotpo to share their "cheat codes" to win the holiday shopping season.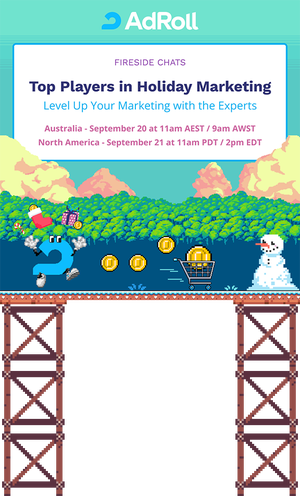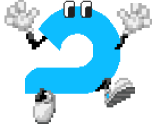 Reach Your Next Checkpoint
You know big dates like Black Friday and Christmas, but what about all the important events that happen before or in between? Use our holiday marketing calendar to prepare for key milestones and stay organized through 2023 and beyond.
August 2023

| Sun | Mon | Tue | Wed | Thu | Fri | Sat |
| --- | --- | --- | --- | --- | --- | --- |
| | | 1 | 2 | 3 | 4 | 5 |
| 6 | 7 | 8 | 9 | 10 | 11 | 12 |
| 13 | 14 | 15 | 16 | 17 | 18 | 19 |
| 20 | 21 | 22 | 23 | 24 | 25 | 26 |
| 27 | 28 | 29 | 30 | 31 | | |
September 2023
Sun
Mon
Tue
Wed
Thu
Fri
Sat
1
2
3

Labor Day

4
5
6
7
8
9
10
11
12
13
14
15
16

Rosh Hashanah

17

Rosh Hashanah

18
19
20
21
22
23
24
25

Yom Kippur

26
27
28
29
30
October 2023
Sun
Mon
Tue
Wed
Thu
Fri
Sat
1
2
3
4
5
6
7
8
9

Indigenous Peoples' Day

10
11
12
13
14
15
16
17
18
19
20
21
22
23
24
25
26

Eid Milad ul-Nabi

27
28
29
30
31

Halloween
November 2023
Sun
Mon
Tue
Wed
Thu
Fri
Sat
1
2
3
4
5
6
7
8
9
10
11

Veterans Day

12

Diwali

13
14
15
16
17
18
19
20
21
22
23

Thanksgiving Day

24

Black Friday

25

Small Business Saturday

26
27

Cyber Monday

28
29
30
December 2023
Sun
Mon
Tue
Wed
Thu
Fri
Sat
1
2
3
4
5
6
7
8

Hanukkah Begins

9
10
11
12
13
14
15

Hanukkah Ends

16
17
18
19
20
21
22
23
24

Christmas Eve

25

Christmas Day

26

Kwanzaa Begins

27
28
29
30
31

New Year's Eve
January 2024
Sun
Mon
Tue
Wed
Thu
Fri
Sat
1

New Year's Day

Kwanzaa Ends

2
3
4
5
6
7
8
9
10
11
12
13
14
15

Martin Luther King, Jr. Day

16
17
18
19
20
21
22
23
24
25
26
27
28
29
30
31
Calendar Legend
Low CPM
Medium CPM
High CPM