5 Marketing Automation Stats — and What They Can Mean for Your Brand
Topics Covered:
Automation isn't the future — it's already here. From chatbots to ad optimization, automation can add tremendous value to your ecommerce brand. Not only can it take over repetitive tasks (you know, the ones that clog up your daily to-do lists), but it can also better personalize the customer journey and level up the effectiveness of your marketing.But on a practical level, how prevalent is marketing automation? Are you really missing out if you haven't implemented it? What extent can it improve efficiency? At the end of the day, is it worth it?
Rather than tout the benefits of automation in words, we're letting the numbers do the talking. Check out these five marketing automation stats that you should keep in mind, plus what they can mean for your brand.
A Study Found That 63% of Companies That Used Marketing Automation Performed Better Than Their Competitors
The surveyed companies that leveraged marketing automation had better sales and return on investment (ROI). Another similar study found that 77% of brands experienced more conversions after using a marketing automation tool.
Though we all love ads that exude creativity, here's the harsh truth: Marketing has become less of an art and more of a science. The most successful brands are driven by data and insights — seriously, evenMad Men'sDon Draper can't compete with platforms powered by machine learning.
Machine learning and artificial intelligence are two of the largest contributors to today's automation boom, allowing marketing platforms to better understand different audience segments and provide more acute recommendations for ad placements, targeting, messaging, and frequencies.
At AdRoll, for instance, we're powered by machine learning that analyzes real-time performance data — which allows us to empower our customers with the knowledge and tools to launch the best marketing campaigns.
No surprise here, but the marketing automation industry is set to grow even more — one report estimates that the global market size will reach over $8.42 billion by 2027. So if you haven't explored automation solutions, here's your cue to get started.
Automated Social Media Posts and Ads Can Save Marketers 6+ Hours Every Week
Managing social media channels for your brands is far from a walk in the park. Curating content, monitoring trends, and engaging with followers and comments can easily take hours out of your busy day. That's where automation comes in, streamlining significant portions of your task list, including:
Scheduling posts and ads in advance. (No need to wait by the computer and watch the clock so you can post at optimal times!)

Monitoring brand mentions across platforms.

Triaging social media inquiries and mentions using sentiment analysis.

Flagging fraud, spam, or phishing related to your social media accounts.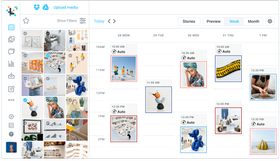 Hootsuite, Zerofox, and Later are some of the most popular tools worth checking out.
Chatbots Can Reduce Your Customer Support Costs ByOver 30%
Chatbots are a win-win solution: Not only will your customers be happier (who wants to wait on hold for hours?), but you'll also save a ton of money hiring, training, and retaining customer service agents.
Though it's still necessary to have a few members of your customer support team on deck at all times to solve tricky customer issues — or deliver that "surprise and delight" to nurture customer loyalty! — a well-designed chatbot can bear the brunt of most customer requests.
No wonder chatbots were the biggest automation trend last year. (Check out this post with pro tips on how to get started with designing your own.)
Email Automation Campaigns Are One of theTop TacticsThat Marketers Use to Boost Performance
For many brands, emails are rightfully the bread and butter of their marketing efforts — it's an excellent tool to deliver relevant and personalized content straight into the hands of shoppers. Email automation tools like AdRoll make it even easier to gather customer data, use it to spot trends, and design emails that are sent out at the perfect time.
Want to remind a shopper that their abandoned cart expires soon? Our platform will do the work. Don't want to spend time manually sending "Happy birthday! Here's a coupon for your special day!" emails? We got you covered! Oh, and did we mention our library includes 200+ email templates, so you can get started in minutes?
Nearly 100%of Marketers Believe Automation-Based Content Personalization Is Improving
Automated MarTech platforms integrate customer data with algorithms to create more personalized and optimized messages for consumers. Have you seen a dynamic ad that included super-relevant product recommendations and thought, "Whoa, they're reading my mind!"? Or maybe you're a Spotify user who waits patiently for your "Year in Review" content and playlist every December? Perhaps you've received an email from Chewy with this email header: "Is <Your Pet's Name> Ready for Fall?" and found it pretty cute?

Personalized marketing does a much better job at catching shoppers' eyes than regular promotional messages — but to do it successfully, automation is the way to go.
Approximately 16% of Marketers Think Quality Is the Top Challenge to Successful Automation
It's not surprising that quality control is on everyone's minds when they think of outsourcing their work to, well, computers. It's an understandable fear: You look away for one second, and then all of a sudden, your marketing software goes haywire and bombards your customers with the wrong information or sends them to the incorrect page.
Though marketing automation is here to save you time and money, having a "set and forget" approach is a major no-no. To make automation work for you, you need to monitor your dashboards consistently, optimize based on available data, and use your creativity for problem-solving — now those are things computers can't do… yet!
Get Started With Automation Using AdRoll
It's clear that marketing automation has far-reaching positive effects on everything from productivity to conversions to ROI. It's no longer a luxury or bonus add-on for marketing teams but a crucial pillar in today's age of digital advertising. (Unless you love doing tedious administrative work — but we doubt that that's the case.)
Before you go, here's some parting wisdom: Marketing automation is an investment. Choose the right platforms and tools, and you'll turbocharge your ecommerce store in no time. If all of this resonates with you, make sure to check out what AdRoll, a leader in the marketing automation space, can do for you and your brand.
Last updated on October 25th, 2021.