How to Scale a Clothing Brand in 2023: 8 Strategies
Topics Covered:
Of all the growth we saw in e-commerce in the pandemic, perhaps no industry benefited quite as much as fashion. Though e-commerce fashion stores can't offer fitting rooms, customers quarantining at home still flocked to their sites to buy clothing. And now, research shows fashion is the largest B2C e-commerce market segment in the U.S.
Anyone looking to get involved can turn to platforms like Shopify and WooCommerce, which give independent fashion brands the tools they need to easily set up digital storefronts. The result, however, has led to a serious uptick in competition for these e-commerce fashion stores.
Further complicating matters, unlike products like batteries or paper towels, fashion is a signal of consumer identity. That means e-commerce fashion stores aren't just competing on price — they're also competing on stylistic nuances, as well as how the product makes consumers feel and what the product says to the world about customers wearing it. 
Communicating all of this to potential customers is no small feat: If you're looking to distinguish your e-commerce fashion site from competitors, these eight tips can teach you how to scale a clothing brand.
1. Nail Your Branding
One of the most important aspects to help distinguish your e-commerce fashion store from competitors? Create a strong brand — one that goes far beyond offering great products, although that's certainly part of it.
Because fashion is intrinsically tied to self-expression, it's vital for brands to establish emotional connections with consumers. Customers will experience something when they wear your clothes, like confidence or comfort. That feeling is what your brand needs to communicate effortlessly. 
Think about brands like American Apparel or Calvin Klein — you can probably identify their ads without even seeing the logos. That kind of recognition is what you're going for. 
No matter what type of clothing or accessories you sell, consumers will always have other options. It may require some soul searching to figure out what sets your brand apart and how to communicate this to your target audience. Generally speaking, it will include a brand story — and require identifying brand values that align with what you actually do. Examples might include ethical sourcing or inclusive sizing.
Lifestyle brand Outdoor Voices is a great example of a brand with a clear sense of self — just through its hashtag #DoingThings. Anyone who visits the website and sees images of active consumers with that hashtag immediately knows what the brand is about and whether it's a good fit for what they're looking for in activewear.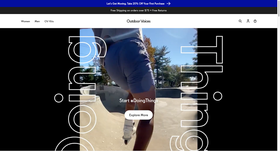 2. Fill in a Market Gap
If you design the products you sell, there's also an opportunity to look for gaps in the market. Think about your own experience as a consumer and the specific products you'd love to buy but are hard to find. Your e-commerce fashion store could be the answer to this potential problem.
Direct-to-consumer (D2C) brands like Naja and Beefcake Swimwear are two great examples of fashion brands putting their own unique spins on the categories they're in and embracing values close to their hearts. For Naja, it's female empowerment and eco-friendliness in luxury lingerie. For Beefcake, it's gender-neutral, 1920s-style swimwear, which is also environmentally friendly and ethically sourced. 
By zeroing in on a specific niche, these brands offer something consumers can't find anywhere else, though both product categories are crowded with plenty of competitors.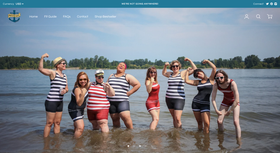 3. Perfect Your Signature Product
A well-known brand like J.Crew features a constantly evolving seasonal selection of chic goods, but it also offers signature products like women's leggings that never go out of style. These leggings are also an item with a high repeat purchase rate that keeps existing customers happy while also helping pull in new customers.
While this is admittedly a bigger challenge for a seller with less brand recognition, once you've nailed your brand identity, you can focus on your own signature products — like T-shirts or scarves made out of special material or featuring an exclusive design.
If it's truly a unique staple product, in time, it will help build a name for your brand, which you can then use to grow your recognition even further. Then, like J.Crew, customers who return for that signature product become prime candidates for cross-selling and upselling. 
4. Offer Exclusive Items in Limited Quantities
Consumers don't want to be left out. That's why FOMO is such a recognizable acronym. And this fear of missing out can be particularly acute in fashion with trends that change seasonally.
Use this consumer desire to your benefit by offering products with limited availability. This gives those items an air of exclusivity while also encouraging customers to act quickly before they're gone. 
The T-shirt bakery Johnny Cupcakes is a master of this art, specializing in designs, colors, and styles available in short supply. Another advantage to limiting quantities is you won't have to hold an end-of-season blowout sale to get rid of old inventory. And that's especially important for brands seeking to cultivate a more upscale profile.
Limited runs are also a great way to conduct market research to see if your clientele is interested in a brand extension into a new product category. It could even be your next bestseller. Meanwhile, you'll also have an opportunity to bring sold-out items back by popular demand — just don't do this so often that you leave customers feeling like you're purposely toying with them.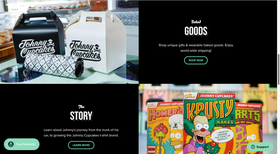 5. Eliminate Every Pain Point in the Path to Purchase
There are many reasons customers abandon products in online shopping carts or during checkout — or don't add anything at all. Some are simply doing the e-commerce equivalent of window shopping. Others perhaps encounter a roadblock somewhere along the way, like having to create an account or realizing shipping is more expensive than anticipated.
Give yourself an advantage over other fashion e-commerce sites by making it as easy as possible to convert. Streamline the checkout process by making accounts optional. Accept multiple payment types — and remember younger consumers are prone to use Buy Now Pay Later (BNPL) services. And, of course, make sure your customer service team has the tools it needs to offer the best possible experience. 
This yields happy customers, and those customers will be all the more likely to tell like-minded consumers about their experiences. 
6. Further Distinguish Your Brand With Easy Returns
Returns are a pain point you'll never be able to eliminate entirely. Platforms like Amazon deal with them by enabling consumers to print labels and take their packages to drop-off points, but shoppers still have to pack up their orders and transport them.
There are a number of startups that have emerged that make it even easier: Take a company like Happy Returns, for example. They partner with online sellers and then accept customers' returns at what they call "return bars." Customers don't even have to pack up their orders again.
In an industry like fashion, returns are inevitable. But by partnering with a returns platform, you can make the process nearly pain-free. 
7. Consider a Subscription Service
 A savvy way to elicit repeat orders is to offer a subscription service. These services have increased in popularity in recent years, so you'll have to stay true to your brand and create a compelling offering for your customers to justify a recurring expense. But if you're able to do both of those things, you can easily cement customer loyalty even further.
DTC brand Italic, which offers luxury goods direct from manufacturers, has taken this one step further with its $99 annual membership, making it kind of like the Netflix or Amazon Prime of fashion. It's a smart tactic as once a customer has paid that membership fee, they are more inclined to shop — and shop more often — to get their money's worth.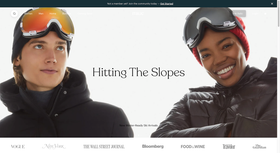 8. Expand Your Digital Footprint With Advertising
If you're looking to drive more traffic to your site, you're in luck — there are a growing number of advertising strategies, marketing platforms, and solutions that will help you do precisely that. 
Here are two of our favorite ad types proven to do wonders for your ROI:
Brand awareness ads allow you to attract potential shoppers to your site. With a solution like AdRoll, you can even deliver your brand awareness ads to people who already resemble your current customers — it's audience targeting at its best! 

Retargeting ads are used to capture the attention of shoppers who have exited your site in order to keep your store top of mind. It's an extremely valuable, effective tactic for brands with high cart or browse abandonment rates. 
A More Fashionable Approach
Building a successful e-commerce fashion brand requires more than just a strong sense of style. After all, it means sourcing unique products, which will change with the seasons. But because these products are so closely linked to customers' sense of self, e-commerce fashion brands face unique challenges. 
By forging a unique brand identity and market position and then finding the right digital partners to help optimize your website, user experience, and brand messaging, you can build a successful e-commerce fashion brand that never goes out of style.
Last updated on January 10th, 2023.