Omnichannel vs. Cross-Channel Marketing
Topics Covered:
It feels like new terms are added to our dictionaries just about every day. Quiz a retired marketer on flywheels, CRO, or phygital (we're serious, look it up!), and you'll likely be met with a furrowed brow. 
Though some of this insider lingo may not stick around forever, others meaningfully encapsulate new trends and practices with profound implications on the current state of marketing. That's where omnichannel marketing and cross-channel marketing come in — important terms that describe how today's shoppers discover, engage, and purchase. 
These two labels are frequently used interchangeably, but they're not actually the same thing. Here's everything you need to know about omnichannel vs. cross-channel marketing.
But First, a Quick History Lesson
Prior to the digital age, marketing efforts were multifaceted yet siloed. An ad agency, for instance, might have included a creative team who designed ads, a media buying department, and a customer service desk. Shoppers would watch a TV commercial or see a print ad, then fill out a mail order form, speak to a sales rep, or pop over to your store. It was a linear, straightforward process. 
But with the advent of new technologies and channels, the shopping journey became topsy-turvy. Nowadays, a shopper might attend a branded event, interact with you on Twitter, sign up for emails, or visit a third-party reviews site — all without actually purchasing. It doesn't help that it's easier than ever for someone to launch an online store, creating even more competition for brands.
Given these massive changes to consumer behavior and the overall sales journey, terms like omnichannel marketing and cross-channel marketing started to pop up as alternatives to multi-channel marketing, in which a brand relies on multiple siloed channels to reach shoppers. 
Both omnichannel marketing and cross-channel marketing are rooted in the idea that social media channels, digital ads, mobile experiences, and physical storefronts should integrate and create a cohesive, interconnected customer experience. 
What Is Cross-Channel Marketing?
Cross-channel marketing refers to the integration of marketing tactics across channels, with all channels complementing one another across the different stages of the customer journey. 
In other words, customer interactions are recorded and shared between various channels — website, social media, in-store, and mobile app — allowing shoppers to move seamlessly between them. 
What a cross-channel marketing approach looks like:
A shopper receives direct mail with a URL that sends them to a specific campaign's landing page. 

Your brand sends abandoned cart emails to remind shoppers to check out, plus post-purchase satisfaction surveys and reminders to leave a review. 

Promotional emails include coupons that can be used online or in-store. 

Shoppers who add products to their cart on their phones will see the same cart replicated on their laptops.

Your brand delivers a cohesive message across all channels — same offers, tone and voice, and visuals. 

No more manually updating inventory and stock numbers — all online and offline selling channels are synced in real time, saving time and resources.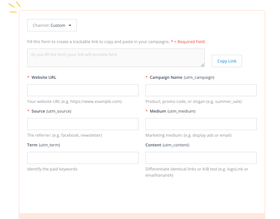 Perks of cross-channel marketing:
A friendly and cohesive shopping experience. Whether shoppers are looking for your product online, on social media, or via mobile devices, they'll receive an engaging, consistent customer experience. 

Better sales. Connecting with shoppers across all platforms will result in a better sales number compared to exclusively targeting a single channel.
What Is Omnichannel Marketing?
A term coined in 2010, omnichannel marketing is similar to cross-channel as it also allows retailers to deliver a smooth customer journey across marketplaces, devices, channels, and platforms. 
However, one of the key differences when comparing omnichannel vs. cross-channel marketing is omnichannel unites your marketing efforts and the associated data and strategy under one umbrella, whereas cross-channel does not. 
In other words, though channels are connected in both approaches, omnichannel takes it one step further by compiling all information, giving you a more complete view of each shopper. 
The AdRoll platform, for example, uses an omnichannel approach, which means users see all of their marketing efforts (ads, emails, social media) tracked, analyzed, and correctly attributed in the Cross-Channel Performance Dashboard. 

What an omnichannel marketing approach looks like:
Shoppers receive a "Thank you for participating in our satisfaction survey!" email with a unique code rather than a generic one. 

You offer shoppers a personalized shopping experience, complete with product recommendations and customized offers tailored to their previous purchases and browsing history. 

Brick-and-mortar stores can reserve items for shoppers to try on before purchasing or offer click-and-collect services. 

Customer service reps can view shoppers' purchase history. 
Perks of omnichannel marketing:
More personalization opportunities. With all customer information and data synced, it's easier to deliver personalized content and messages. Talk about offering shoppers what they need, when and where they need it.

More integrated and reliable data. In the AdRoll Cross-Channel Performance Dashboard, for example, all your data works together to provide a clear picture of precisely what's driving clicks and conversions. Users even receive top-level insights from campaigns across channels. 
Wait… So, What's the Difference Between Omnichannel vs. Cross-Channel Marketing Again?
You can think of cross-channel marketing as a subset of omnichannel marketing, with the former being more granular and the latter more holistic in nature. 
Cross-channel marketing primarily focuses on how a brand connects with customers across various channels and touchpoints — how can my brand establish and implement specific tactics to encourage shoppers to interact with me across channels? 
Comparatively, omnichannel marketing describes an overall multi-channel strategy — how can I develop an overarching framework to guide the integration of marketing strategies and tactics across multiple channels? 
Which Approach Should I Use: Omnichannel vs. Cross-Channel Marketing?
There's no right or wrong here. In fact, it's not about what approach you pick but more about how much effort you put into placing your customer experience at the heart of your marketing efforts. 
No matter what, you want to offer shoppers the most convenient, seamless, and enjoyable journey, so they are more likely to purchase your products, connect with your brand, and continue supporting your business in the future. 
Ready to Get Started?
AdRoll, with its robust stack of marketing solutions, is a must-have for every brand looking to get started with omnichannel and cross-channel marketing. Check out how our cross-channel platform can level up your sales now.
Last updated on January 4th, 2022.