The Ultimate Audience Segmentation Planning Template
Topics Covered:
Delivering the same broad message to each of your customers is a surefire way of flushing your marketing budget down the drain. After all, you don't communicate with all the different people in your life — friends, coworkers, family members — in the exact same way, do you? 
Similar to your real-life connections, your brands' audiences likely differ when it comes to their expectations, needs, and preferred communication methods. That's where audience segmentation comes in. It's the process of dividing your audience into unique groups based on variables such as demographics, psychographics, and behaviors. 
Trust us: It's one of the most important parts of a good marketing strategy — and the best way to organize and deliver a personalized and relevant shopping experience. 
As a quick refresher, here are four of the most common types of audience segmentation:
1. Demographic segmentation includes age, gender, ethnicity, income, education level, job title, and marital status. 
Examples:
Shoppers aged 18-35

Corporate buyers

Women with advanced degrees and making over $70K/year
2. Psychographic segmentation includes personality traits, hobbies, values, lifestyles, and interests. 
Examples:
Vegans and vegetarians

Outdoor lovers (specifically rock climbing and mountain biking)

Deal-seeking shoppers on a hunt for the best price
3. Geographical segmentation includes country, region, city, or town. 
Examples:
Shoppers based in large West Coast cities (e.g., Los Angeles, Seattle, Portland)

Shoppers located in Canada
4. Behavioral segmentation includes spending habits, purchasing habits, return vs. new shopper, brand loyalty, number of pages visited, shopping cart value, and time spent on site. 
Examples:
Cart abandoners

Return customer who has placed 2+ previous orders

Shoppers who have clicked on at least three pages
For more on the different types of advanced segmentation, check out this post. 
Now it's time to create different audience segments based on shared characteristics. We created a segmentation template (with examples!) to help get you started.
Once you've collected the necessary data, fill in the sticky notes within each quadrant. Keep this file nearby as you create campaigns and other marketing materials.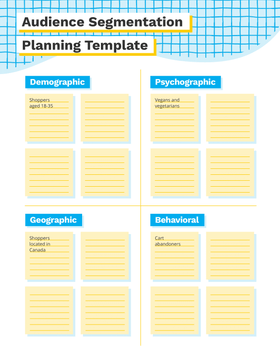 Learn More About Your Audience Than Ever
With AdRoll Unified Contacts and dynamic list builder, you can power hyper-personalized marketing across ads and email for both identified and anonymous contacts. Connect with more customers and improve your audience messaging to improve your sales. Learn more here.
Last updated on December 21st, 2022.