The Ultimate Guide to Email Retargeting
Topics Covered:
Ever think to yourself, "If only I could find a way to encourage website visitors to follow through with their purchases even after leaving my site?" Two words: email retargeting. 
The merits of email retargeting speak for themselves — while only 2% of shoppers convert during their first visit to your site, nearly 60% of shoppers say that marketing emails affect their purchase decision-making process. Meanwhile, a study found that retargeting can boost conversion rates by a massive 150%. 
Case in point: Window shoppers and cart abandoners are no longer a lost cause. Here's everything you need to know about email retargeting. 
In this article:
What Is Email Retargeting?
When Should You Use Email Retargeting?
How Do I Start Email Retargeting?
Time to Double Your Conversion Rate With Retargeting Emails and Ads
What Is Email Retargeting?
Retargeting is a common ecommerce marketing tactic used to reach shoppers who don't follow through on your CTA — whether it's adding items to their cart, checking out, or following you on social media. Retargeting can span multiple channels, including display ads, CTAs, or in this case, email campaigns. 
How does email retargeting work? 
Like ads retargeting, email retargeting is triggered by visitors' behavior on your website, often tracked by browser cookies. However, unlike ads retargeting, which enables you to retarget anonymous visitors after leaving your website, email retargeting can only reach visitors in your email subscriber lists. While email retargeting may have a smaller reach, it gives marketers the ability to create a highly personalized experience. In fact, email retargeting and ads retargeting are complementary to each other. On average, marketers using both retargeting methods have a 2x conversion rate and faster conversion time.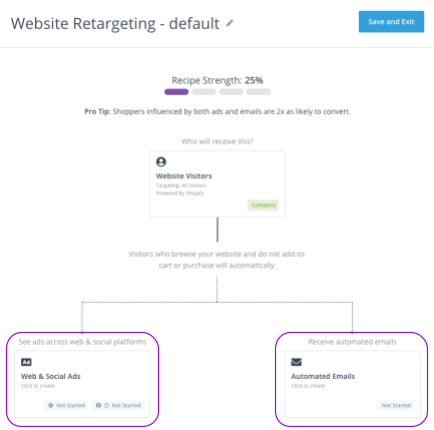 Whichever option you choose, successful email retargeting is all about crafting the right message and directing it to the right people. It only works when you use the information you know about shoppers to create highly targeted marketing relevant to their shopping behaviors — what they've purchased previously, what they want, and what they need. 
Email retargeting works best for brands that:
Suffer high cart abandonment rates.
Have a considerable number of window shoppers who aren't taking action.
Want to personalize promotions to email subscribers.
Have huge opportunities to upsell products to existing customers.
When Should You Use Email Retargeting?
Retarget website visitors
Many shoppers who visit your website will click on product categories, read some reviews, maybe even skim through your FAQ page… and exit without ever adding anything to their carts. What to do about these shoppers who give up halfway through your sales funnel?
With email retargeting, reengaging with these inactive visitors becomes easy. Framebridge, for example, will send out a simple retargeting email that includes a list of "top products hand-selected for you" based on what site visitors clicked on and browsed through. To give shoppers an extra boost, they even include a 10% off coupon.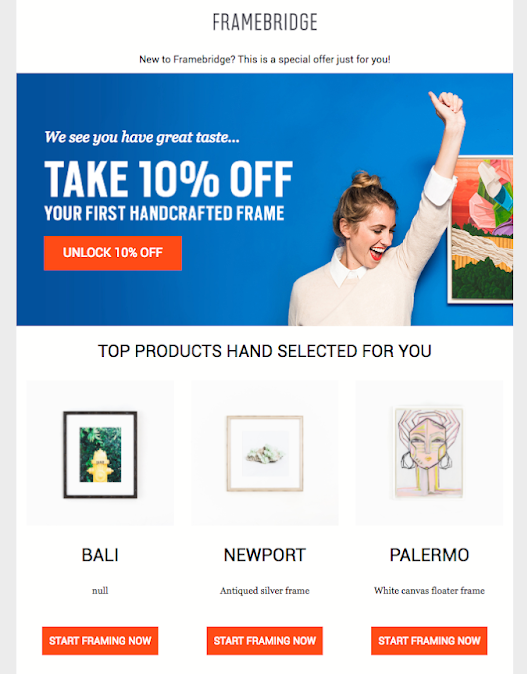 Retarget shoppers with abandoned carts
A huge way for ecommerce brands to leverage email retargeting is by recovering abandoned carts — according to Statista, a whopping three out of four customers will abandon their shopping carts halfway through their checkout journey. (That's $4 trillion in lost revenue each year!) 
When it comes to recovering these lost sales, email retargeting is an opportunity for you to:
Remind shoppers of the products they had shown an interest in. (Perhaps they got distracted and simply forgot to check out?)
Restate your value proposition by including the top reviews for the products they left in their carts. 
Generate a sense of urgency and FOMO — here's where countdown timers can come in handy. 
Offer a small perk that encourages them to continue shopping, such as free shipping or a small discount. (A huge reason why shoppers abandon their carts is unexpected shipping fees.)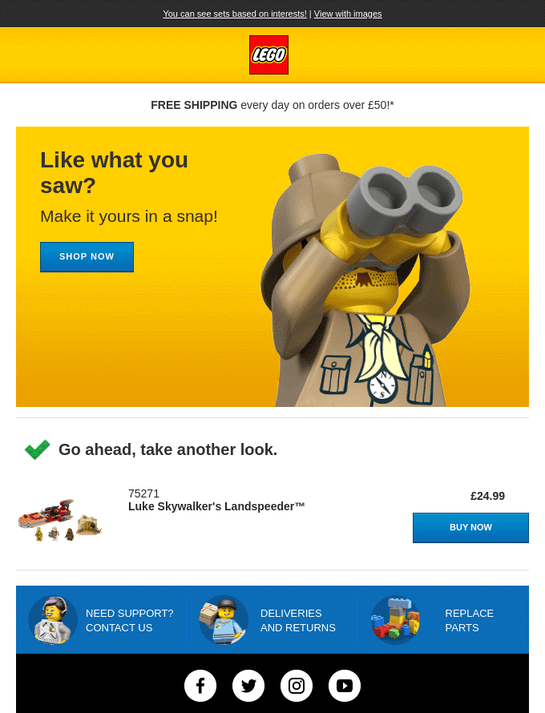 Cross-sell/upsell customers after purchase
One of the biggest advantages of email retargeting is how easy it is to segment your audiences. That's why you should consider cross-selling or upselling customers who have just completed a purchase, in case they hadn't fully explored your product catalog during their shopping journey. 
You can:
Promote products that would work well with the ones that they just purchased. 
Remind them of your value propositions and brand promises. 
Encourage them to add to their order at no extra costs before the package is shipped. 
Offer them a small discount automatically applied to their next purchase.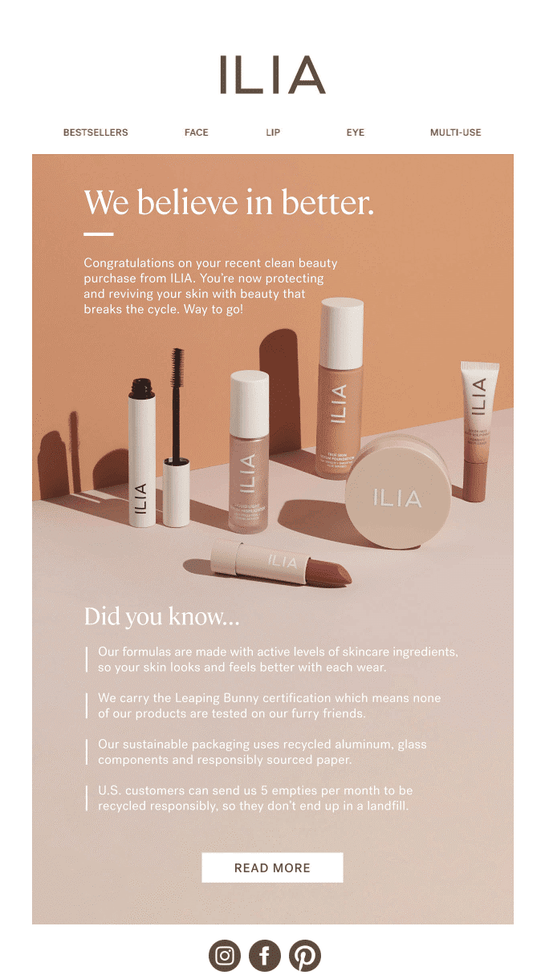 How Do I Start Email Retargeting?
Ready to get started on your journey toward lower bounce rates, more conversions, and higher revenue numbers? 
As with any type of digital marketing, there are a couple of best practices that you'll need to keep in mind when designing your email retargeting campaign. Luckily, email retargeting solution, such as AdRoll, makes it easy for you to work smarter.
1. Build your email (and SMS) subscriber list
It may seem obvious, but you can't build a successful email retargeting campaign without a robust email subscriber list. To get started on this database, you can:
Add an email sign-up pop-up to your website. Don't forget to offer a small incentive, such as a discount or free gift.
Include an email sign-up field to your website footer. 
Craft social media posts that encourage followers to sign up for your emails. (Again, offer something in return.)
Collect emails from attendees of your in-person and virtual events. 
Of course, you'll want to be transparent about how you'll use this first-party information — adding a disclaimer promising that you won't spam people's inboxes won't hurt.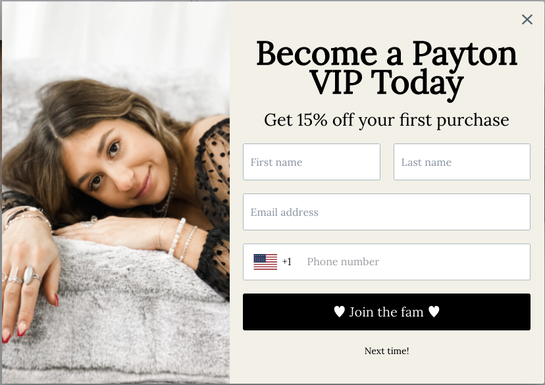 Pro tip: While you're collecting email addresses, consider asking for phone numbers as well, in case you want to dabble in SMS marketing in the future. 
2. Define your audience segments
Next up is the vital step of defining your audience segments. In other words, dividing up your email list into more specific and detailed subsets, ensuring you aren't sending irrelevant emails to, say, shoppers who are waiting for their orders to arrive. After all, you never want shoppers to receive an email and think, "Why did you send this to me?"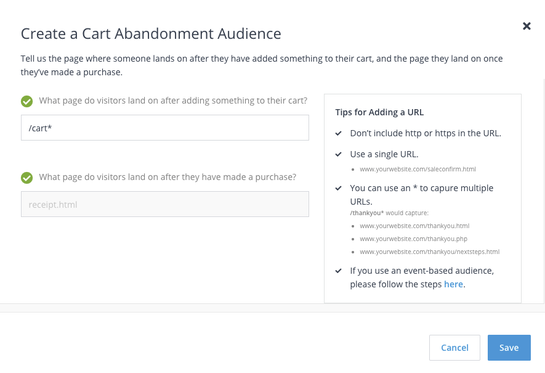 Depending on your goals, you can segment your audience based on different characteristics. When you use AdRoll's email retargeting solution, you can define audience segments in virtually any way you like, including by:
Cart status (e.g., abandoners) 
Product
Purchase history
Demographic
Geography
3. Plan your email sequences
A study conducted by BI Intelligence found that emails sent within three hours after a shopper abandons their cart see a 40% open rate and 20% click-through rate. Other experts recommend retargeting emails within an hour of a customer abandoning your site. (Ultimately, the magic number will depend on why people choose to exit and what type of retargeting email you're sending.) 
But shooting emails out quickly isn't the complete answer — in fact, the last thing you want is to spam and annoy shoppers. Instead, you'll need to plan your email sequences methodically, starting with a kind reminder, followed by a small incentive, and ending with copy that evokes urgency and FOMO.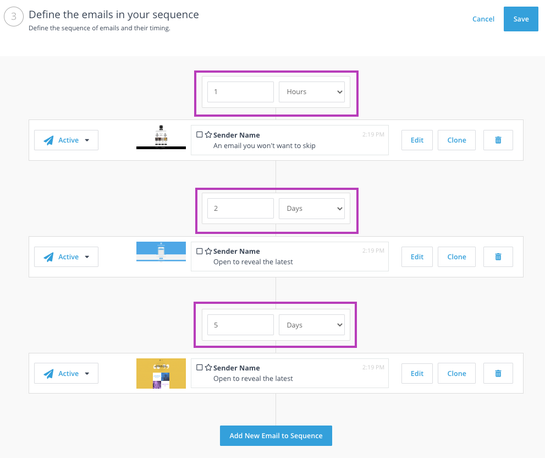 4. Create great emails
Great emails have captivating subject lines, compelling content, and strong CTAs that encourage you to take action. Unsurprisingly, they're not easy to create. Here are some ideas and tips for you top-notch email marketers out there:
Choose eye-catching, mobile-friendly designs
Oh, how we love to see emails that load quickly, are visually attractive, and tell you precisely what you need to do next. (Fun fact: With AdRoll's email retargeting solution, you get access to an email template library of these gorgeous and professionally optimized email designs.)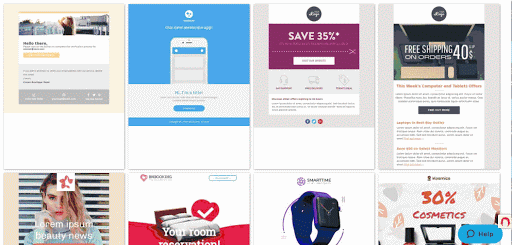 The usual rules for visual marketing materials apply to retargeting emails too:
Don't use too many fonts, graphics, or colors 
Include a high-res hero image 
Make your CTAs prominent buttons or hyperlinked text 
Break up large chunks of text with images or graphics 
Opt for lifestyle shots rather than product shots against white backgrounds (whenever possible) 
Optimize your images so they're sharp but don't take too long to load 
Write engaging subject lines
Your email subject line is the first (and oftentimes only) thing shoppers see. To ensure people don't immediately click the "delete email" button, you can: 
Ask a question in your subject line.
Put your offer front and center.
Use personalization (such as including the customer's name) to get up close and personal. 
Include emojis to make it pop. 
Consider your content
Though there's a lot of value to a promotional or cart abandonment retargeting email, we also love a good piece of content that lands in our inboxes. Here you can:
Offer a solution to a common problem.
Provide useful tips that people can use in their everyday lives.
Introduce a new idea. 
Content that provides actionable value goes a long way in encouraging shoppers to click on your CTA to learn more. 
Use social proof
When you're reminding shoppers of your products' value proposition, don't forget to harness the power of social proof — 85% of consumers trust online reviews as much as personal recommendations. Whether it's featuring testimonials for popular products or displaying the number of reviews of top-of-mind products, it's hard to go wrong with these trust markers. 
Email personalization
To keep your retargeting emails as relevant as possible, we highly recommend personalization. By pinpointing exactly what shoppers may be looking for, personalized retargeting emails can save them an immense amount of time and effort (which is particularly valuable if you have an extensive product catalog, like Nordstrom!)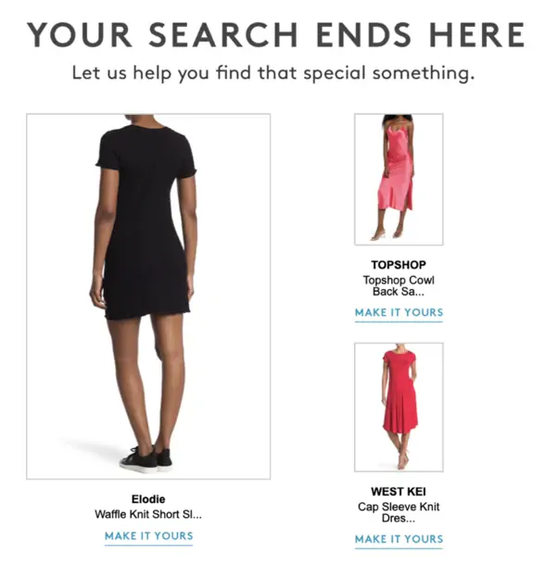 Luckily, it's super easy to do with AdRoll — you can personalize anything in the subject line, preheader, or email body.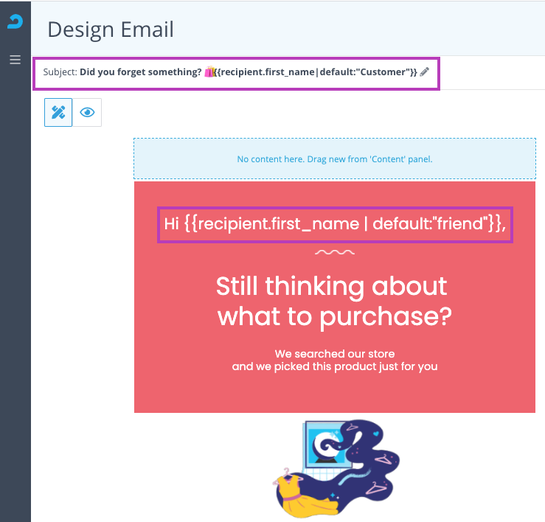 Beyond that, our personalization attributes include everything from geographical location to product recommendations with specific price ranges.  
5. A/B test everything
How do you know if your subject lines, visuals, offers, or content needs work? That's where A/B testing comes in.
With AdRoll's A/B test interface, you can test everything from subject lines to offers to email delivery timing. All you have to do is create two campaigns that target the same audience — we'll automatically divide users randomly between these two campaigns, making sure that visitors won't receive multiple emails at once. Preventing spam is super important to us!
Time to Double Your Conversion Rate With Retargeting Emails and Ads
There are a ton of marketing tactics that allow you to deliver relevant content to relevant audiences, yet we still can't sing enough praise for email retargeting. After all, shoppers crave the right messages that are crafted just for them, sent at the perfect time. 
If you're ready to level up your email marketing and double your conversion rates, check out AdRoll's email retargeting solution. 
Last updated on January 10th, 2023.