Master All the Facebook Ad Formats
Topics Covered:
In 2004, Facebook launched its first ever advertising program — an initiative designed to bring in revenue to cover server costs. Dubbed "Flyers," these bare-bones ads were sold to companies looking to promote their business to Facebook's early user base of students (things like job listings, t-shirts, etc.).

Since then, Facebook's advertising feature has evolved and flourished with over 10 million active advertisers. Flyers has progressed into a variety of ad types that help marketers reach the right audiences, stand out among the competition, and meet their business goals. 
With so many Facebook advertising options available today, where do you start? And how do you choose the right ad formats for your objectives and budget? Let's explore the ins and outs of each Facebook ad type and how to use them to maximize your campaigns. 
Facebook Objectives vs. Ad Formats
Facebook breaks its ad campaigns down into two important considerations: ad objectives and ad formats. Ad objectives should be thought of as goals — what are you looking to accomplish with your campaigns? There six campaign objectives to choose from: awareness, traffic, engagement, leads, app promotion, and sales. Once you select your campaign objective, you're able to choose an ad format, or how your ad will be displayed creatively. Each objective supports each ad format, with one exception: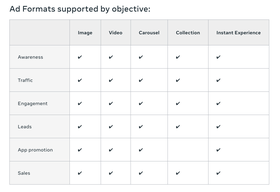 Why Choosing the Right Ad Format Matters
After choosing your objective, you'll want to focus on selecting which ad format or formats you'll use. Each ad type is designed to serve a specific purpose and produce a specific outcome, so it's important to choose ad formats that align with your personal marketing strategy and goals. 

In addition, each ad type requires certain creative elements and specifications — some which require more time and resources than others. Keep these factors in mind when selecting ad formats to position yourself for success and avoid wasting precious marketing dollars.
Understanding the Different Types of Facebook Ads
Now that you have some additional context, here's an overview of Facebook's main ad formats and when to use them:
Image ads
The most basic of all Facebook ad formats, image ads contain a single image, an optional footer, and optional copy. These ads are an excellent choice for highlighting a single piece of strong visual content, are useful at any stage of the sales funnel, and can be easily created in just minutes. Bear in mind, however, that image ads can be limiting. If you're looking to promote a group of products or deliver multiple messages, another ad format will likely be more suitable.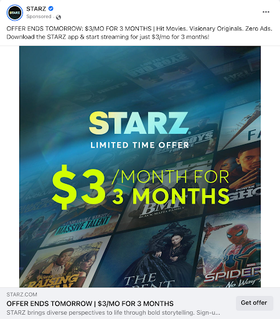 Use image ads to:
Boost brand awareness

Promote a single product or service

Convey a simple message
Video ads
Similar to image ads, video ads use a single video to promote your brand, product, or message. Video ads tend to drive better engagement than other ad formats because moving elements and sounds allow for more dynamic storytelling. To garner the best results, Facebook recommends keeping your video ads to 15 seconds or less and using a video template to help with creation.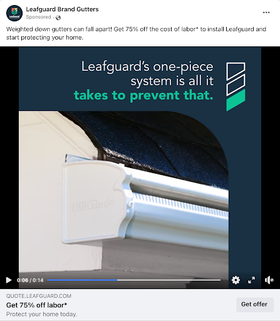 Use video ads to:
Boost brand awareness

Capture viewers' attention quickly

Deliver a single message
Carousel ads
Showcase up to 10 images and/or videos in a single ad. Carousel ads feature "cards," each of which includes its own headline, description, link, and call to action. To navigate through the carousel, users swipe on a mobile device or click arrows on a computer screen. Carousel ads are a good option for businesses with a small product lineup.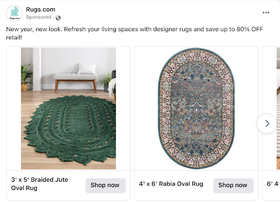 Use carousel ads to:
Promote multiple products, each linking to a relevant landing page

Highlight multiple features or benefits of the same product

Explain a step-by-step process
Collection ads
Collection ads build on the concept of carousel ads. They include a cover image or video followed by three product images. When a user clicks or taps on the ad, they're immersed in a full-screen "Instant Experience" where they can scroll through your entire product catalog (plus see descriptions and prices) and make a purchase. While carousel ads are best suited for businesses with a small product lineup, collection ads are great for larger businesses with a wide selection of products and offerings.C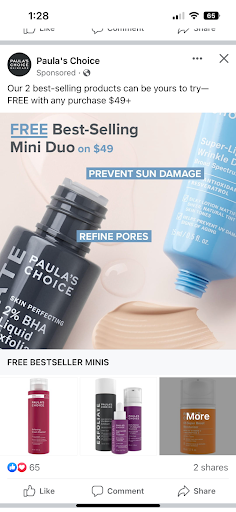 Stories ads
Stories ads are another Instant Experience ad type that appear when a user taps through stories at the top of their feed. While organic stories disappear after 24 hours, stories ads are served to your target audience for as long as you run your campaign. 

These ads have proven incredibly effective at driving conversions — when asked what actions they've taken after seeing a product in a story ad, 58% of users said they browsed the brand's website to get more information and 50% visited websites where they could buy the product.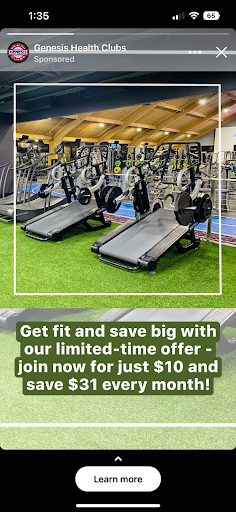 Use stories ads to:
Inspire action

Deliver dynamic content without heavy production costs

Engage your audience at a glance with a full-screen experience
Other ad types
Depending on your objectives and placement settings, you may come across other types of Facebook ads not mentioned above, such as lead ads, event ads, or Messenger ads. Like all Facebook ads, each of these formats serves a distinct purpose and should be used strategically. Learn more about some of Facebook's newest ad features.
Make the Most of Your Facebook Ads
With so much development and expansion in the past decade, Facebook advertising isn't something digital marketers can approach blindly. Choosing the right ad formats is one of the key components — along with audience targeting, creative execution, reporting and analytics, etc. — to getting the most ROAS from your Facebook ads. 

AdRoll's Facebook ads management tool helps you manage, optimize, and measure your Facebook ads alongside your campaigns on other popular social media and web platforms — from one, easy-to-use dashboard. Plus, certain tier customers get access to our in-house team of digital marketing experts to help you choose the right ad formats and execute on top-notch creative.
Frequently Asked Facebook Ad Questions
What are the main Facebook ad formats?
Facebook's main ad formats include image, video, carousel, and collection ads. When opened, some mobile ads expand into an Instant Experience, a full-screen ad continuation that lets users learn more about your brand, browse your product catalog, or visit related web pages. 
How many ad formats does Facebook have?
Facebook has four main ad formats: image, video, carousel, and collection. Each of these ad formats can be used in various placements throughout Facebook and other Meta platforms, e.g., an image ad could be placed on Facebook Stories.
These four ad formats can also be used in various ways to create more specific sub-genres of ads. For example, a lead generation ad is made up of either an image or video ad and an Instant Form. 
Which ad formats should I use?
This all depends on your business's specific marketing goals and resources. If you want to highlight a number of products from your catalog, try a carousel ad. If you're new to Facebook advertising and are looking for a simple way to generate brand awareness, you may want to choose a standard image ad.
How much do Facebook Ads Cost?
Like any other advertising platform, the cost for Facebook ads depends on a variety of factors about your business, industry, etc. To find out what the average CPM and CPC, click here.
Looking to get the best ROAS you can? Use our ROAS calculator to find out how much you should be spending on ads based on info about your business and our data benchmarks.
Last updated on May 10th, 2023.