History of Social Media Advertising
Social media today is full of advanced technologies, features, and capabilities designed to continuously enhance the user experience. Similarly, the advertising arm of social media has become more advanced than ever, leveraging troves of data that allow marketers to reach hyper-targeted audiences with highly engaging content.
But social media advertising didn't start in the sophisticated state we know today. Some argue that social media itself was created over a century ago — long before the internet — with things like Morse code and then the U.S. Department of Defense's ARPANET digital network, which allowed scientists at four universities to share software and other data. Eventually in 1997, the first true social media network was born, known as "Six Degrees." This short-lived site that allowed users to create a profile and connect with other users was followed by other ultimately unsuccessful platforms like Friendster, LiveJournal, Myspace, etc.
When we think about the origins of social media advertising, however, it really begins with Facebook. In 2004, Mark Zuckerberg created what would become the world's most popular social network, which was initially only available to university students.
In the beginning, Facebook's biggest hurdle was paying server costs. To generate revenue, it began selling ad space known as "Flyers," which allowed students and local businesses to promote offerings aimed at specific university campuses. In 2005, Facebook began selling ad space to larger businesses, and in 2007, officially launched the Facebook Ads Platform.
The earliest iteration of Facebook Ads involved three main components: Facebook Pages that allowed businesses to create their own business profile and connect with their audience; Facebook Social Ads that served brand messages to Facebook users; and an interface that collected insights based on user behavior. At this time, 100,000 Facebook Pages were launched, covering "the world's largest brands, local businesses, organizations and bands."
Not long after the launch, Facebook Ads expanded its capabilities with improved targeting options, sponsored stories, mobile app ad placement, Messenger chatbots, more ad formats, etc. And while Facebook continued proving success with its ad program, other social media platforms followed suit. In 2007, YouTube debuted itself as an advertising channel with in-video ads that overlayed the bottom 20% of a video and appeared after 15 seconds of play.
After years of Facebook Ads growth and profit, a new precedent in the business of social media was set: Social media platforms would monetize their content and generate revenue by offering targeted advertising to business users.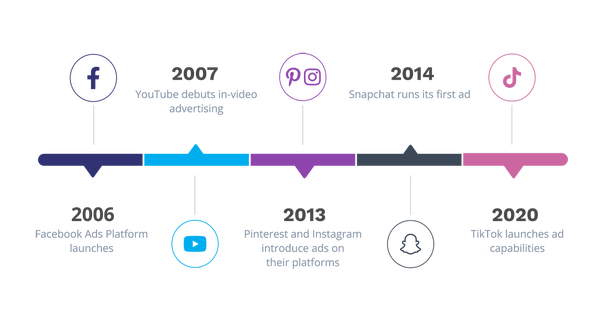 How Social Media Ads Work
Each social media platform offers its own native ad manager where users can launch and measure campaigns. Each ad platform operates slightly differently, but the basics of campaign creation are generally the same.
The advertiser decides which social media platforms they want to place ads on. This should be a strategic decision based on who the target audience is, what kind of budget is available, what kind of content will be promoted, etc.
The advertiser creates a business account on their chosen platform. Here, they'll explore campaign options, such as available ad formats (video, image, carousel, etc.) and where they'll appear in a user's feed.
The advertiser sets their objectives, goals, and budget.
The advertiser defines their target audience. They'll select the characteristics of their ideal customer — everything from general demographic information like age, gender, and household income to specific traits like interests, job title, and relationship status.
The advertiser creates and uploads their ad. Ad creative can be as simple as a headline and image or as robust as an interactive video.
The social media platform serves the ad to its users based on the selected parameters. The platform will use cookies and other data sources to ensure the ad is shown to the right people.
The advertiser tracks the ad's performance within the platform's ad manager. Here, they're able to see how many people viewed, engaged with, or clicked on the ad and analyze campaign results.
Although basic campaign setup and management is similar from platform to platform, each social media network has nuances and certain guidelines that advertisers should be familiar with. Learn more about the differences in the next section.
Types of Social Media Ads (& How They're Unique)
Meta ads [Facebook & Instagram]
Meta dominates the social media landscape with Facebook and Instagram, which boast nearly 3 billion and 2.3 billion active users, respectively.
With the most active users of any social media platform, Facebook is a good choice for advertisers looking to cast a wide net in terms of impressions and audience segmentation. Facebook also offers a variety of ad formats to advertisers, each serving a distinct purpose. For example:
Carousel ads include a number of images, each with their own headline, description, and link. Advertisers often use carousel ads to showcase specific products.
Collection ads open an immersive shopping experience, where shoppers can browse full product catalogs and even make a purchase without leaving the Facebook app.
Video and image ads are straightforward and easy to create. They appear in user feeds and are a very accessible way to gain brand awareness or highlight a key message.
Once known as "the photo sharing app," Instagram is conducive to brands wanting to capitalize on visual media. Over 61% of Instagram users are between the ages of 18 and 34, compared to Facebook which tends to skew slightly older.
Another notable Instagram advertising differentiator: engagement. Instagram ads tend to cost slightly more than ads on other platforms, but also receive higher-than-average engagement — 23% more than Facebook ads, in fact.
TikTok ads
TikTok may be the new kid on the block in the social media world, but has quickly become an advertising powerhouse, especially for brands targeting younger audiences between the ages of 14 and 25. TikTok offers unique ad formats that prioritize creativity and authenticity, including:
TopView ads that appear as soon as a user opens the TikTok app
In-feed ads that appear natural and nonintrusive as users scroll through their feeds
Promoted hashtag challenges that encourage user-generated content as part of a contest
Branded effects (including stickers, filters, and special effects) that users can apply to their TikTok videos
TikTok ads tend to be budget-friendly, but do require minimum spending thresholds.
Advertising on other social platforms
Pinterest
Pinterest is rooted in discovery, which means users are there to find products and inspiration. Therefore, Pinterest ads can be especially effective for ecommerce businesses looking to drive sales. Learn more about how to effectively use Pinterest ads here.
Twitter
Even after a change of ownership and recent uncertainties surrounding the platform, Twitter ads remain a viable marketing tactic for many businesses. Twitter offers a variety of ad formats designed to meet specific objectives, such as gaining followers, reaching a mass audience with premium placement, appearing alongside trending topics, etc.
Benefits of Advertising on Social Media
Social media advertising has quickly become a go-to tactic for brands looking to achieve growth — whether that means more brand recognition, more sales, or anything in between. Some of the main advantages of social media advertising include:
Improve brand awareness. Billions of people use various social media platforms every day. Get in front of users who are unfamiliar with your brand and make an impression on potential customers.
Reach targeted audiences. Advanced targeting technology lets you reach the most relevant groups of consumers and avoid those who aren't interested in your products.
Low costs. Especially compared to more traditional media channels, social media advertising is cost effective and can accommodate any budget.
In-depth metrics. Social media advertisers have access to analytics that not only detail ad performance, but provide insights into customer behaviors and desires.
Increase conversions. With strategies like retargeting, advertisers can serve social media ads to people who have already visited their website to re-engage them and encourage a sale.
Social Ads
Tired of logging into separate ad managers to run your social media campaigns? Utilize AdRoll's automation builder to create, edit, measure, and optimize all of your ads from a single, easy-to-use platform.
Learn More
Frequently Asked Social Media Advertising Questions
What is social media advertising?

Social media advertising is a form of digital marketing that utilizes social media networks to serve targeted advertisements.
Why is social media advertising important?

Social media itself has a massive impact on society, culture, and the way people communicate with one another. Social media advertising provides an avenue for businesses to tap into these communication networks to reach billions of people and promote their brand and products.
How much does social media advertising cost?

The cost of social media advertising depends on a number of factors, such as platform, competition, audience, campaign type, etc. Get a breakdown of social media ad costs across Facebook, Instagram, Pinterest, and TikTok here.
How effective is advertising on social media?

The effectiveness of social media advertising all depends on strategy. But in general, the potential for social media ads to garner positive business outcomes is high: Advertisers are increasing social media advertising spend by billions of dollars each year, and 48% of social media users have purchased a product or service after seeing a social media ad.