Building Momentum: Maximizing Brand Awareness with AdRoll
Sonia Gastaud Head of International Marketing
at EDHEC Business School
The flywheel model is something that I truly believe in. My team at EDHEC Business School and I have fully embraced it in our brand voice, distribution channels, and prospecting campaigns. We work closely with our sales departments because we must tightly intertwine our marketing message with the relationship that our prospective students are building with the sales team.
Marketing, especially in the world of academia, is changing. The marketing funnel itself has been rightfully questioned in favour of the flywheel model, which focuses on keeping customers happy, driving referrals, and helping your company increase sales. We may not know where customers first encounter a brand or where prospective students first discover a school or university. But we can be sure of one thing: the customer—or, in my case, the student—must be at the heart of all marketing activities or campaigns.
It's no longer enough to lead a prospect down the marketing funnel and woo the desired candidates into our esteemed programmes. We're living in a new, digital world now, and our marketing needs to reflect our new reality.
Rethinking the Right Approach
Since 1906, EDHEC Business School has prepared our graduates to step into roles as business leaders, managers, and innovators. From our three locations in France—Lille, Nice, and Paris—to our locations in London and Singapore, we prepare our students for the ever-changing world of business in making a positive impact. We're of Europe's top 15 business schools, and our brand is prestigious, yet down to earth.
EDHEC Business School is a brand that completely grew on me. I had a background in higher education marketing and began working for EDHEC in International Admissions. There, I got to learn and truly understand the admissions process, including the nuances of seeking out prospective students. Seeing how outreach turned into enrollment was invaluable. When educational marketers appreciate the value of their brand, they can better grasp what attracts students to a school and why those students ultimately decide to attend.
I went on to spend some time working as a marketing consultant for nonprofit organisations in Colombia, but one day I got a call from EDHEC's associate dean, who was putting together a marketing team for the master's programmes. He proposed that I lead the new team. The department had a huge portfolio of fantastic programmes that needed the right people with the right strategies to properly showcase them. I was on board right away—it was time to return to EDHEC, and take on this challenge.
The Swiss Army Knives of Marketing: Doing More with Less
As the head of international marketing for the master's programmes, I manage a portfolio of 20 programmes, and our five-person team is responsible for all campaigns and marketing activities related to each of those 20 programmes. It was imperative that I assemble a "Swiss Army Knife" kind of team—people who are highly skilled, versatile, and who can be trusted to handle anything that they come across and have a positive attitude!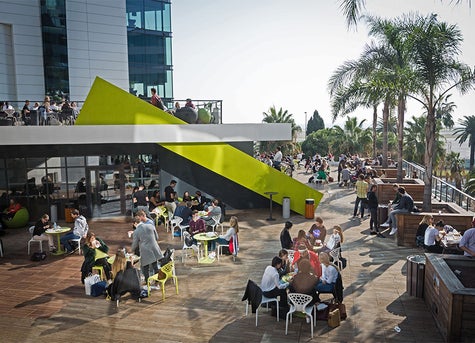 Our team is spread across the Lille and Nice campuses, and our role is to position and promote our family of programmes and our individual programmes via compelling content on owned and paid-for platforms. We also need to generate leads for our sales team to then nurture prospects, convert them into applicants, and, ultimately, turn them into full-time students. Let's put it this way: we are not bored and I am very lucky to be surrounded with a dedicated and skilled team!
We approach our marketing campaigns by grouping our programmes according to specific criteria, which eliminates the need for product managers. Doing so also allows us to adjust the way we market those programmes and to which audiences we market them.
For the past three years, we have run five-month flighted campaigns with AdRoll, a growth marketing platform for direct-to-consumer (D2C) brands. These campaigns use a blend of brand awareness and retargeting to promote our master's programmes. While applications are the true goal, we think back to the flywheel and focus on the student journey and extending the brand's international reach.

Building Momentum Across Global Markets
We started working together with AdRoll in 2018. We selected AdRoll for its ability to help build and strengthen brand awareness. Keeping our brand top of mind in the eyes of prospective students is key, so we try to maintain or even increase EDHEC's share of voice in the market in times our sales team is less on the ground. We therefore operate in a complementary way. Naturally, students tend to compare schools, so it's important for us to continuously communicate with these prospective students during their journey.
Our sales team usually travels heavily in the fall and a little bit in the spring for global student recruitment events. During the low season, we're thinking about ways to supplement that lack of visibility. The natural solution was to spread that word digitally. We do brand awareness and retargeting campaigns during a half-year lull to keep the momentum in our flywheel.
We run both organic and paid campaigns simultaneously and focus most heavily on digital marketing, where we're better able to track and measure the impact of our efforts. We work with many different providers each year, but AdRoll is our only solution for retargeting campaigns. We're able to reach students who may not have naturally landed on our website, and retarget those who have previously visited or interacted with our campaign materials.
We use Google Analytics, but AdRoll's account management and cross-channel attribution provide the reporting and analytics that highlight opportunities in target markets where we can capitalise on untapped potential, such as low conversion rates. Without AdRoll's actions, we wouldn't be visible in many of our active regions, or we wouldn't be able to manage it effectively given the size of our team!
How Flexibility and Experimentation Led to 8X More Website Traffic
The first two years that we included the AdRoll campaign in our ongoing marketing cycles, our campaigns resulted in a 2–3X increase in traffic to our websites. This year, we faced a potential challenge when EDHEC launched a more expensive, luxury programme that needed its own footprint. With AdRoll, we formulated two recent campaigns for that programme that led to a 7–8X increase in website traffic.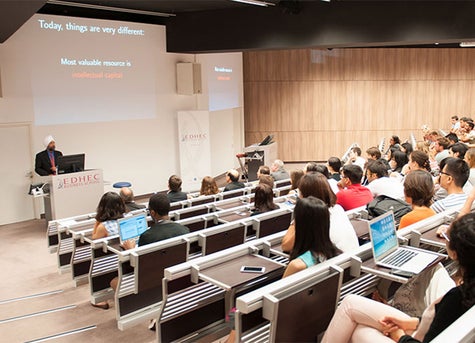 In addition to the high-level visibility we wanted for these campaigns, we hoped to track the student journey all the way to submitted applications. AdRoll was able to help us along the way and track our leads all the way through!
The objectives and stakes were high. It's a big risk and heavy responsibility for me to go internally and ask for more money. I needed to know that the marketing action plan we put together would work. Thankfully, it was a success all the way through, delivering dozens of applications. AdRoll played a huge part in acquiring applicants for EDHEC, especially when it came to retargeting the right students.
The Power of Strong Partnerships
In our first year using AdRoll, everything was a test. We weren't sure exactly how the platform worked, so we formed strong relationships with our AdRoll account managers. I'm truly happy with the value and impact they've had on our team and our campaigns. They've always given us top-level service, especially compared to our previous providers. Availability has been one of their strengths, but this year they've truly gone above and beyond.
In our industry, you can lose the ability to identify your own blind spots after a while, so working with a third-party partner can challenge you to see things differently. At the start of this year, we asked AdRoll to evaluate how we present our initial campaign needs and suggest a good way of approaching our accounts. We've also asked AdRoll to keep us updated on particularly successful or easy-to-convert countries so we can hone our efforts even more.
Given our objectives and our understanding of the market, we would then pause or inject more money into specific countries based on AdRoll's evaluation. This strategic component goes hand in hand with the special connection that a provider can have with a customer—all of which makes their campaigns even more successful.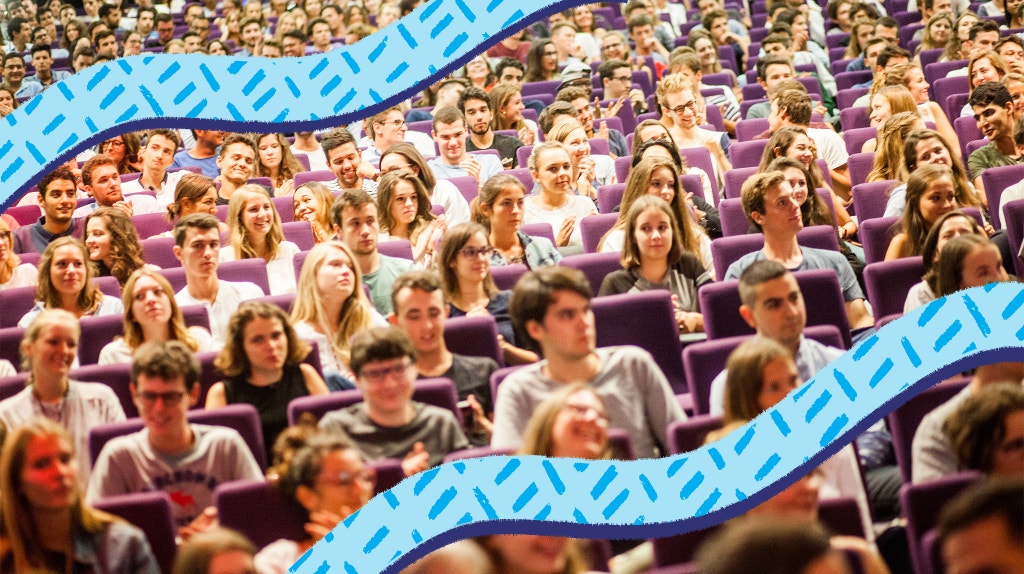 An Environment of Education and Innovation
The environment at EDHEC gives our team the freedom to try new things and see what works—and we've been able to do just that with excellent results. We're looking forward to seeing what else we can achieve using AdRoll and the flywheel model within our ongoing campaigns.
Our marketing team strives for agility and flexibility. Following the school's lead, we've created an environment of experimentation. Since we've proven we can deliver, EDHEC gives us the freedom to test different strategies, which is a place where creative marketers thrive.
We could have been a bit riskier in what we tested in our recent campaign, and that just means there's room for experimentation and growth. And ultimately, taking creative, calculated risks is what leads to results.
We're living the values that attract the right prospective students to our school. It's how successful businesses operate and thrive, and this is a lesson that our graduates will learn and take into the business world.
Attracting the right student talent will help to build the momentum that will propel EDHEC's educational legacy for another 100 years and beyond. And, as all marketing flywheels do, that means putting our customer—our prospective students—at the heart of everything we do.