How AdRoll Prioritizes Brand Safety and Protects Your Ad Spend
Topics Covered:
Brands want to place ads where their consumers spend their time online. However, not all ad placements are equal. Your brand can quickly be put at risk when operating with technology that does not adequately protect you from placing ads on websites that contain unsafe or bad content. Unfortunately, if you were to exclude inventory without structured guidelines, you might miss out on conversion events generated by serving ads to the right consumer, at the right time for a low (optimal) price. 

How does AdRoll help brands maintain safety and suitability as well as fight unwanted traffic like made-for-advertising (MFA) websites? We'll dive into our policies and tech that help us keep our customers safe and make us stand out against other advertising platforms. Before we get started, let's review what challenges advertisers may face.
Why Brand Safety Matters
Brands can be at significant risk if their ads show up on a site that contains content that is not safe. These types of sites might show: adult & explicit content; crime & harmful acts; death,   online piracy; hate speech; illegal drugs, sensitive social issues, misinformation, and more. Similarly, a brand's reputation can be put in jeopardy when ad placements aren't a suitable match. For example, placing ads for alcohol brands on sites with content geared towards children. There are also websites that are specifically designed to siphon advertising dollars from brands unknowingly.
Brand reputation risk
A 2022 US Brand Safety Consumer Survey conducted by the Trustworthy Accountability Group (TAG) and Brand Safety Institute (BSI) found that "88% [of respondents] said it is very or somewhat important that advertisers ensure their ads are not placed near brand unsafe content". When a brand's ads appear on websites promoting unsafe or unsuitable content, they may come to find that their consumers become distrustful, uncomfortable, in disagreement, and even angry with them. While your brand may not be the one producing the unsafe content, it has now become associated with it.

This can significantly impact your brand's reputation, so it's important to work with advertising partners that prioritize brand safety and inventory quality. AdRoll only works with ad exchanges that thoroughly vet the publishers they work with to ensure publisher content meets their policy guidelines.
Wasted ad spend
Brands may not be able to easily calculate the negative financial impact that an unsafe ad placement can have, but there's another brand safety threat that will eat up advertising budget quickly: made-for-advertising websites. 
What are made-for-advertising websites?
Made-for-advertising websites, also known as MFA sites, are specifically created to trick programmatic advertising algorithms with inflated performance and cost-effective CPMs. You can think of MFA sites the same way you think of spam emails–junk. 
These websites are typically low-quality content, such as clickbait, filler stories, and slideshows jammed with more display and video ad slots than there are sometimes words on the page. They are designed to generate accidental clicks from site visitors and to maximize the amount of ad dollars they can collect per pageview. Often the site content is replicated across different domains or worse, stolen from credible publications. Put simply, ad placements on MFA sites are undesirable real estate.
However, the Association of National Advertisers calculates that $13B is spent annually on MFA websites. You may be wondering, "How could so much money be spent on these spammy sites that are clearly junk ad placements?" 

It's because MFA sites can easily fly under the radar. Typically the main pages of these websites appear to be legitimate publications with brand safe content and normal ad-to-content ratios. But take a closer look at the pages where the ads are actually being placed and it's clear that these cheap impressions don't stand a chance at driving meaningful conversions; Instead, brands are ultimately wasting advertising dollars on users that rarely drive any business value.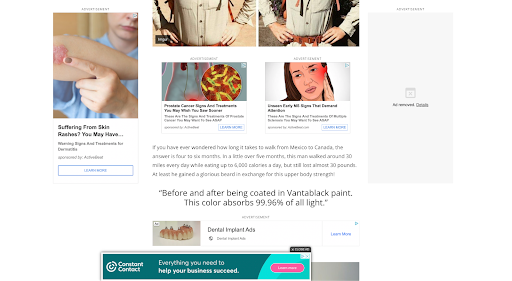 Example of an MFA article.
Since many of these sites go undetected in traditional inventory quality checks, it's important to work with advertising platforms that can identify and block MFA sites. AdRoll uses a combination of A.I. and human review to audit our ad placement inventory and block low quality websites.
How AdRoll Helps Advertisers Mitigate Risk
Brand safety tactics
Here are some of the ways we protect our customers and their budgets.
Inventory is key. AdRoll only works with ad exchanges who thoroughly test and monitor their publishers against brand safety criteria. 


AdRoll blocks unsafe content categories within the pretargeting settings of our ad exchange partners for extra security. Examples of blocked categories include violent content, suggestive content, weapons, etc. 


AdRoll leverages machine learning to detect and automatically ban MFA sites from our available inventory. 


Self-service exclusions allow customers to add any domain, mobile app, or IP to an account-specific blocklist.

AdRoll is a member of the Trustworthy Accountability Group (TAG). TAG's mission is to eliminate fraudulent traffic and promote brand safety. 

Customers that have existing subscriptions with third-party ad verification vendors, like Integral Ad Science (IAS) or DoubleVerify (DV), can utilize those services via 3rd-party tag integration with AdRoll. 


AdRoll partners with Media Rating Council, accredited firm Pixalate to protect against Invalid Traffic (IVT). We continuously work with our ad exchange partners to identify and block sources of invalid traffic.
AdRoll AI insights
To date, AdRoll has blocked over 3,000 MFA websites using our machine learning AI. Although we expect this list to continue growing, our teams remain devoted to building trust, transparency, and delivering a quality customer experience. 

To help our customers better understand their brand safety and security, we have implemented AI insight widgets within our dashboard to update our customers about our ongoing prevention.

Launch Quality Advertising With AdRoll
You can maximize your advertising ROI by working with partners that value your brand's reputation and protect your advertising dollars against low quality content.
Last updated on October 6th, 2023.