5 Spooktacular Halloween Campaigns to Draw Inspiration From
Topics Covered:
Spooky season is upon us once again! With pumpkin spice lattes back on the menu, Home Depot's 12-foot skeleton gracing the shelves, and Spirit Halloween's popping up around the country, the air is abuzz with eerie excitement.
While it can be tempting to dedicate all of your attention to planning for Black Friday and Cyber Monday, don't overlook the golden opportunity that Halloween presents to captivate shoppers' affection for this haunting holiday. Here are five frightfully creative Halloween campaigns to draw some blood... er... inspiration from.
1. Levi's Creepy Collab With Universal Monsters
Every Halloween, we don our scariest costumes, but last year, Levi's took the art of dressing up to a whole new level with their haunting collaboration.
Partnering with the legendary Universal Monsters, Levi's unveiled a Fall 2022 collection that blended their iconic denim with spookily stylish graphics inspired by the original film posters of Frankenstein (1931), The Bride of Frankenstein (1935), and The Mummy (1932). The Universal Monsters x Levi's lineup boasts denim, tees, sweats, and accessories that pay homage to the cinema's timeless nightmares.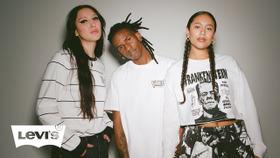 The takeaway: Don't overlook the classics! Consider partnerships with recognizable Halloween symbols or characters to infuse a sense of nostalgia and excitement into your products or services, making them stand out during the Halloween season.
2. Kit Kat's Bewitched Trick-or-Treat Bowl 
Gone are the days of "please take one" signs with Kit Kat's never-ending trick-or-treat bowl. The brand debuted its magical dish that allows participants to reach for a handful of Kit Kats and witness the magic of more bars materializing right before their eyes. The bowl featured a red light that flashed when it refilled for the next group of trick-or-treaters.
Following this debut, Kit Kat invited people across the country to share their hometown's Halloween charm on Instagram, encouraging them to include the hashtag #KitKatBowl in their posts for a chance at the mystical bowl making an appearance.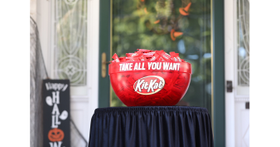 The takeaway: Halloween is all about community and connection, so be sure to infuse your Halloween campaigns with interactive and shareable elements, inviting everyone to join in on the festivities and share the chillingly delightful moments on social media! 
3. Chipotle's Beloved "Boorito" Relaunch
Halloween has always been a day where dressing up in costumes can score you free candy, but thanks to Chipotle, you can also get a free burrito. Last Halloween, Chipotle Mexican Grill brought back their tradition of the "Boorito" to restaurants for the first time since 2019. On October 31, fans who dressed up in costume and visited a Chipotle restaurant in the U.S. from 3 p.m. local time until closing were eligible for a $6 entrée if they were members of Chipotle Rewards. 
To promote the relaunch, the brand introduced "BooReal" on BeReal, a social media platform popular among Gen Z. Participants had the chance to win one of 10 "Free Burritos for a Year" prizes by sharing their BeReal moments and using the hashtag #BooritoSweepstakes. Additionally, Chipotle offered its Rewards members opportunities to win extra cash through Cash App. They could enter by following Chipotle on Twitter, posting their $cashtag with #ChipotleBoorito to reply to Chipotle's tweets on select dates and potentially win a share of the $25,000 in cash giveaways.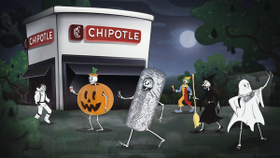 The takeaway: In the world of Halloween, it's no secret that younger generations are the life of the party. So, don't be a ghost brand; research and embrace creative ways to engage with your young, spirited audience during this spooky season. After all, Halloween is all about the thrill and fun, and the best treats go to those who know how to cater to the younger, candy-loving crowd!
4. Cheetos's Computer-Generated Chesterville
Last Halloween, Cheetos and Chester Cheetah made a digital debut with Chesterville, a playful virtual neighborhood within Meta Horizon Worlds. In this mischievous realm, participants completed tasks to fill their "mischief meter" and gain access to a spooky mansion atop Cheetos Hill. Once inside, users had the option of choosing between Cheetos Flamin' Hot Chipotle Ranch, Cheetos Flamin' Hot Pepper Puffs or Cheetos Nashville Hot Snacks. This spooky virtual adventure was accompanied by a real-world flavor revival, with fans casting their votes for a limited-time flavor comeback set for earlier this year.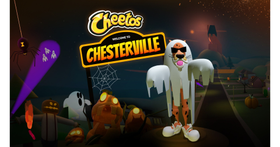 The takeaway: Halloween allows you to combine virtual and real worlds in fun and flavorful ways. Consider mixing the spooky charm of online experiences with real-world surprises to reach a broader audience and create unforgettable Halloween memories. 
5. Target's Early TikTok Treat
In 2022, Target went all-in on TikTok to tap into the early Halloween shopping vibes. The company joined forces with influencer, Dalia Elizabeth, to create a TikTok video that was all about Halloween shopping at their stores. Launched in mid-September, the campaign excited folks for the upcoming spooky shopping season and they started sharing their own Target Halloween hauls on TikTok. Target's TikTok campaign not only revved up early Halloween anticipation but also sparked a wave of user-generated content that truly captured the spirit of the season.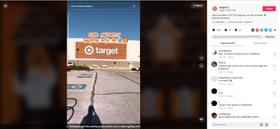 The takeaway: Collaborating with influencers is like adding the perfect ingredient to your Halloween marketing cauldron. They sprinkle their unique charm and creativity into your campaign, enticing early Halloween shoppers with their spellbinding content.
How to Use These Campaigns as Inspiration
Drawing inspiration from other Halloween campaigns can be a powerful way to infuse creativity and innovation into your own marketing efforts. While it's crucial to maintain the uniqueness of your brand and message, here are some general tips on how to leverage successful campaigns for inspiration:

Study the strategies: Begin by carefully studying the strategies and tactics used in the campaigns that caught your eye. What made them stand out? Was it their storytelling, visuals, interactive elements or unique partnerships? Understanding the mechanics behind a successful campaign can provide valuable insights into what works in your industry or niche.

Analyze the audience engagement: Examine how the campaign engaged its target audience. Did it tap into emotions, offer value or provide a memorable experience? Identifying the elements that resonate with your audience can help you tailor your campaigns to create a deeper connection with your customers.

Adapt and innovate: You don't want to rip anyone off, so avoid direct duplication and instead adapt the key takeaways from inspiring campaigns to suit your brand and objectives. Infuse your unique voice, products or services into the strategies that impressed you. This process of adaptation and innovation will ensure that your campaigns remain authentic and relevant to your specific audience.
Using other marketing campaigns as inspiration can help you stay ahead of the curve in a rapidly evolving marketing landscape. By learning from the successes of others and applying those lessons to your own marketing endeavors, you can create compelling and memorable campaigns that resonate with your target audience. Remember, the goal is not to imitate, but to innovate and craft something uniquely representing your brand.
All Treats, No Tricks
Ready to get started with your own festive campaign in Q4 (whether spooky or merry)? Check out our holiday marketing and advertising guides below!

Learn more about how AdRoll can help you launch, optimize, and report on your holiday campaigns all in one platform.
Last updated on October 16th, 2023.