8 Top Brands on TikTok (+ What You Can Learn From Their Campaigns!)
Topics Covered:
You've probably realized by now that TikTok isn't solely reserved for lip-synching Gen Zers anymore. The platform has become not only a driving force for instigating conversations and setting cultural trends but also the ultimate playground for brands looking to build connections with their target audience.
If you're still writing off TikTok as a time-waster, you're missing out on massive opportunities. Just take a look at these eye-watering stats:
TikTok has more than 1 billion monthly active users, with younger users spending an average of 1.5 hours on the app daily.

56% of users and 67% of content creators feel more connected to brands on TikTok, especially those that publish more unpolished and authentic content.

Users who share, like, or comment on branded content are 150% more likely than other users to buy a company's products or services. These engaged users are also more likely to visit a brand's brick-and-mortar store and 40% more likely to visit their website.
However, to take your TikTok marketing strategy to the next level, it's not enough to just sit and swipe, swipe, and swipe some more — in fact, some might say that's a dangerous game, given the app's addictive nature. On the contrary, you must spend time investigating what's out there: What campaigns are your competitors launching, and what are their stand-out moments? How are they hopping on viral trends? What TikTok ad formats yield the best results?
We're here to help. Here are nine A+ TikTok campaigns, complete with key takeaways that'll fuel your next creative brainstorming session.
1. Crocs' Self-Deprecating Humor
Crocs may be comfortable, but are they… fashionable? Most people wouldn't hesitate before saying "no." While most brands would panic at being labeled as such — hey, nobody likes being the butt of low-hanging jokes — Crocs has used TikTok as an opportunity to embrace this characterization.
While Crocs' TikTok account offers the standard fare of product reveals and branded promotional videos, its strategy also uses the self-deprecating and raw humor users on the platform have come to embrace and celebrate. For example, in one strategic partnership campaign featuring popular figures such as Post Malone and Adam W, Crocs introduced users to their #ThousandDollarCrocs challenge, encouraging them to "class up" their Crocs. To drive hype for the campaign, Post Malone designed a limited-edition pair of Crocs, which sold out in 10 minutes. Can you believe it?!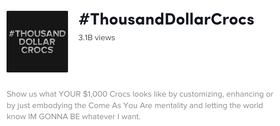 With over 3 billion video views, we can confidently say that the campaign was a success.
🔑 Takeaway: One reason Crocs is so successful on TikTok is that it embraces authenticity. After all, what's more authentic than realizing your product is ugly (before ironic ugly fashion became all the rage, thanks to Balenciaga)? That said, don't take yourself too seriously — the most successful brands on the platform create content with an irreverent and lighthearted approach.
2. Guess' Influencer-Packed Campaign
Influencers played a massive role in elevating TikTok into the public consciousness, and in return, the platform has transformed top creators into household names. But for every Addison Rae and Charli D'Amelio, there are tens of thousands of micro-influencers itching to get involved with brands aligned with their content, values, and humor.
Just like Crocs, Guess is another old-school fashion company that's slowly becoming hip again. To capture the attention of younger users who may not be familiar with their brand, Guess launched their #InMyDenim campaign, challenging users to post videos in which they transformed their outfits from a mess to best-dressed.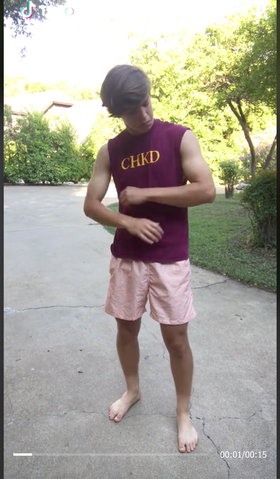 To get users excited about the campaign, Guess collaborated with Bebe Rexha, specifically using her song "I'm A Mess" — appropriate! — which became the basis for all the UGC. (TikTok's "duet" feature makes it incredibly easy for songs to go viral and for other creators to hop on trending challenges and hashtags.) The company also partnered with top influencers, such as OurFire, to ensure a wide reach — videos using the #InMyDenim hashtag racked up more than 53 million views.
🔑 Takeaway: While influencers are a must to ensure your TikTok campaign reaches the right audience, there's no reason to break the bank. Research micro-influencers who've established a presence in your industry — often, niche influencers with smaller communities can drive higher engagement rates.
3. e.l.f. Cosmetics' Viral Dance Challenge
Beauty and fashion are two of the hottest industries on TikTok. Not only can products be presented in a visually attractive way, but they also lend themselves well to before-and-after footage — which, as you probably know, can be incredibly captivating.
But with so many beauty and fashion brands on TikTok, companies must work twice as hard to stand out from the rest of the crowd. Opting for a more unique campaign, e.l.f. Cosmetics commissioned a song titled "Eyes Lips Face" (which is what its brand name stands for), then partnered with a team of influencers to launch the #EyesLipFace challenge. The premise was straightforward: Creators would show their eye, lip, and face makeup process to the song's simple tune. (It helped that the song, taking inspiration from Kash Doll's hit "Ice Me Out," was quite catchy.)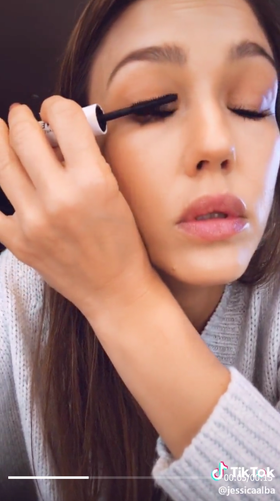 The result? Over 9.4 billion views, and thousands of big-name celebrities, including Jessica Alba and Terry Crews, jumping on the trend.
🔑 Takeaway: Sound and music are major components of any successful TikTok campaign. Brands, unfortunately, have limited access to trending songs on the platform, but this doesn't mean you can't get creative and commission an original song. In fact, TikTok's new SoundOn platform was launched earlier this year to help you with just that — check it out!
4. Dunkin's Unconventional Branded Partnership
e.l.f. Cosmetics truly has an A+ TikTok strategy because they've got a starring role in this next campaign as well. Earlier this year, e.l.f. teamed up with Dunkin' to launch a limited-edition coffee and donut-inspired makeup line, and obviously, they didn't shy away from promoting it on TikTok.
To drive hype for the collection, the companies sent their delicious-looking products to dozens of TikTok creators spanning both the makeup and food spaces, which prompted a wave of unboxing and reaction videos. Food influencers created custom recipes inspired by the palettes, while makeup and skincare content creators showed themselves putting the freebies to action.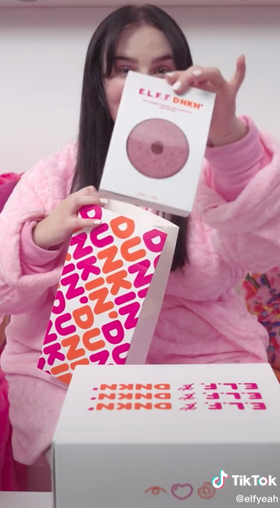 🔑 Takeaway: People love free stuff. If you lack the resources to launch official partnerships with influencers, consider sending them freebies or samples, and invite them to post a review! It's a great way to broaden your reach and rack in UGC that you can re-share on your own marketing channels.
5. We're Not Really Strangers' Engagement Tactics
Unlike the other brands on the list, you may not have heard of We're Not Really Strangers, a purpose-driven card game that players can use to deepen their relationships. However, for such a niche product, WNRS has an extremely impressive social media presence — they've accumulated over 4.1 million followers on TikTok!
For such an interactive product, WNRS' TikTok strategy is, unsurprisingly, rooted in interactivity and engagement. In some videos, they challenge people on the street to answer their deep question cards. In others, they post motivational quotes on public walls. In some ads, they post their question cards and encourage users to leave a comment with their answer or tag a friend.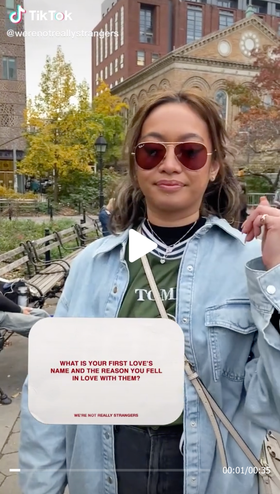 Because TikTok's algorithm weighs engagement heavily, WNRS' interactive strategy has helped the brand rise to the top. The company's emotional (and occasionally heavy) content also helps distinguish it from the more humorous and casual videos on the platform.
🔑 Takeaway: Engagement is the name of the game when it comes to achieving better ROI on TikTok. Whenever possible, try to post questions, quizzes, or challenges — anything that'll inspire someone to pause and leave a comment, share it with their friends, or give you a like.
6. Starface's Fun TikTok Effects
As a skincare brand targeted toward young people, Starface used a relatively simple TikTok strategy: Leverage fun-loving UGC, trending songs and sounds, and different TikTok effects (such as Duets, Branded Effects, Stitches, and Green Screens). Like much of the rest of the platform, their tone is acerbic and unpolished, while their colorful and trendy aesthetic does a great job of stopping users from scrolling away.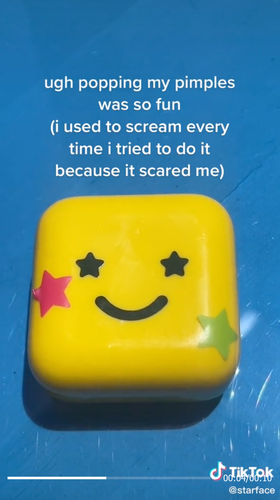 🔑 Takeaway: TikTok offers a ton of effects that jazz up your content, including text-to-speech tools, beauty filters, and unique transitions — all of which can go a long way in keeping your video fast-paced and engaging. Remember: Try to keep it short and sweet!
7. Taco Bell's Celebrity-Driven Teasers 
With its massive pool of active and engaged users, TikTok is one of the best places to drive anticipation — and that's precisely what Taco Bell did. To build excitement for the return of their Mexican pizza, the chain partnered with Doja Cat, who, years prior, had tweeted her love for the dish. In a series of TikTok ads, she jokingly complained about the partnership and teased viewers about a potential announcement, with the comment section blowing up with speculation.
Taco Bell didn't just limit the campaign to TikTok — like any leading brand, they had an omnichannel marketing strategy that included a Super Bowl spot.
One month later, Doja Cat shared a TikTok where she sang about Mexican pizza, which raked in over 8.3 million views. And in case you were wondering, the campaign has not ended: Doja Cat and Dolly Parton are set to perform in Taco Bell's "Mexican Pizza: The Musical" which — yup, you guessed it — will premier exclusively on TikTok.
🔑 Takeaway: With users sharing their predictions and unfiltered thoughts in the comments section, teasers, and sneak peeks are great for any brand looking to drive engagement. Just make sure you properly follow up on all the anticipation you build and offer them the satisfaction they seek. (Remember the backlash when Kendall Jenner hyped up the fact that she had some emotional news to share, only for her to announce a new partnership with Proactiv?)
8. Applebee's Real-Life Activations
If you turn back the clock to August 2021 and hop on TikTok, you'll notice one song you rarely hear anymore: Walker Hayes' "Fancy Like" — yup, the one where he mentions Applebee's Oreo shake. When the song went viral on the platform, it was every marketer's dream come true (especially those working for Applebee's): Users developed choreography for the song, which then spread far and wide, while others declared their love for the bygone menu item.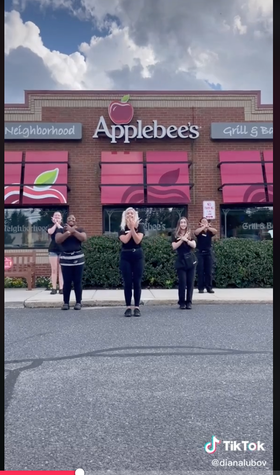 Applebee's knew it had a small window to capitalize on the momentum, so it did. The brand brought back the shake and launched a partnership with Walker Hayes to further amplify their campaign (which, of course, featured "Fancy Like" prominently).
The results? Applebee's sales increased by a whopping 102% that quarter — a major testament to the power of TikTok.
🔑 Takeaway: Give the masses what they want! But in all seriousness, TikTok is a great place to have your finger on the pulse — what does your target audience want? What are they saying about your brand and products? What do they wish you did differently? Even if you lack the resources to actively engage with every comment or post that mentions your brand, use TikTok as a place to gather insight. And if organic conversations about your company do blow up, make sure you jump on it ASAP! Trends can go viral and become irrelevant in mere days.
The Possibilities of TikTok Awaits
TikTok is a massive source of creativity and inspiration, and hopefully, by now, you've got a few new ideas of your own. Just remember: To create genuinely entertaining, heart-warming, and culturally relevant content, you'll need to find a unique voice that distinguishes your brand from the rest of the pack. As the platform's motto goes, "Don't make ads, make TikToks."
Ready to make some moves? Check out how AdRoll's automation builder can consolidate your marketing efforts, from social ads, to display ads, and even email, so you can see precisely how your target audience interacts with your brands across platforms. After all, better data means better results.
Last updated on May 10th, 2023.