Linen House: Keeping Ahead of the Competition With a Strong Brand Identity
Topics Covered:
Most of us have fallen victim to a sleepless night here and there. In fact, a recent study by Harvard Health found that 75% of us are experiencing poor sleep at least a few nights per week. While there are a number of home remedies available, like meditation and exercise, have you ever thought about how your bedding could affect the quality of your sleep? 
Linen House — an Australian-owned brand that brings you the latest in home fashion with a wide range of coordinating bedding products — knows the importance of quality bedding, whether it's for sleep or relaxation. And similarly, they also understand the importance of a well-decorated home, whether it's for entertaining or lounging. 
We speak with Bruce Read, Ecommerce Manager, and Julia Canella, Content Manager, about how Linen House has evolved into one of Australia's biggest bed linen and textile brands thanks to their strong brand identity and focus on customer-centricity.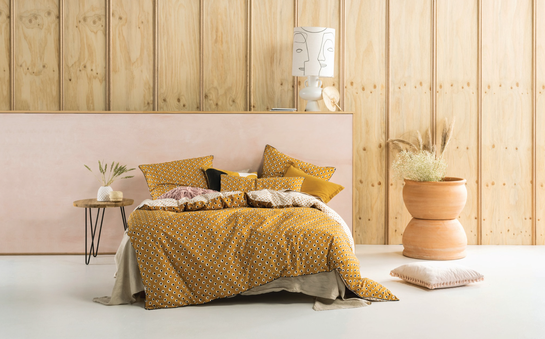 Products So Good You'll Never Want to Leave Your House — or Bed 🛌
Linen House was founded in 1993 by Michele and Gordon Duncan. Gordon previously worked for Myer as well as other textile companies and met Michele overseas. One blind date and several years later, they branched out on their own to form Linen House, all while taking care of three young children.
Fast forward to 2021, and things are on the up and up. The brand is still driven by family values (fun fact: their children now all work in the business), they collaborate with an enviable pool of local artists and designers, and they're operating a thriving ecommerce site with numerous outlet shops throughout Australia. "We're super proud of our team," says Julia. "They each create knockout designs that are not only fresh and inventive but also always a step ahead of the design curve — the best way to describe our products."
Always a Step Ahead of the Design (and Marketing) Curve 👣
Even with exceptional products of the finest quality, it's still difficult to deliver their message in a noisy marketplace. To stand out, the Linen House team makes it a point to preserve their strong aesthetics, ensuring that their product designs, photography, styling, and messaging are consistent across their various channels. 
But that's not all — they also take great pride in their customer-centric marketing strategies, including:
Delighting their customers with a beautifully curated Instagram feed
"Instagram is our most popular platform," says Julia. "Since we're a homewares and lifestyle brand, our curated feed is filled with imagery that inspires the many aesthetics our customers seek — we put enormous effort into our styling and photography each season. We feel that posting regularly, in addition to using Instagram's features such as Reels and Stories, keeps our fans engaged."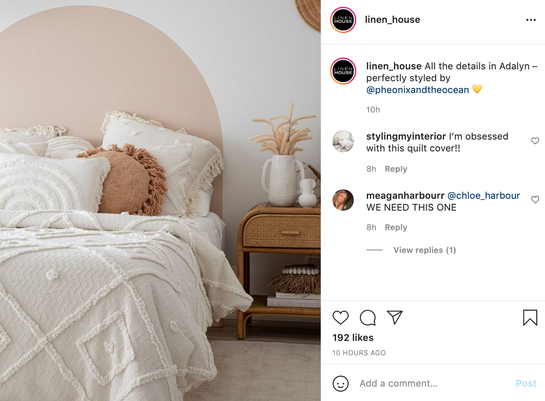 Pro tip: Create tutorials to demonstrate how customers can use your products. This helps show products in action, and reports say these are the most popular type of video content on Instagram.
Connecting with customers through content
"We publish a journal twice a year that coincides with our seasonal launches," says Julia. "This journal includes compelling lifestyle advice across home styling, sleep, health, recipes, product, and textile care, as well as how-to guides for fun creative projects. It gives us a platform to lead the conversation about our industry and helps to establish trust with our community. Further, it gives us a chance to share our celebrated lifestyle photography, which helps to inspire our fans, something they constantly seek and relish — as noted by their comments and feedback." 
In addition to their popular journals, Linen House also dedicates a lot of time to their blog. "Much of our blog content is created through customer research," explains Julia. "We compile lists of the many questions our customers have about our brand and products and use the blog to expand on these answers. Product managers, designers, and stylists also get involved in the content, which holds well for offering well-researched and reliable information to our website visitors."

Pro tip: "Comb through your online customer reviews to see if there are questions or feedback that the wider public should know," suggests Julia. "This type of data could form the basis of a headline or topic for a blog article."
Offering a fantastic loyalty program
"We launched our loyalty program just over two years ago and immediately noticed an enormous take-up," says Bruce. "This program has given us a chance to really connect with our customers in a way we weren't able to prior. Through the sign-up, new members get insight into who the Linen House family is, what we're motivated by, and allows long-term fans to enjoy well-deserved discounts. They also receive other benefits such as free shipping and a birthday treat, as a thank-you for their support of our products. Since launching the program, our average order value has moved up from $145 to around $160, and our database has seen tremendous growth — today, we have over 200k members."
Pro tip: Don't overplay the discount card. While discounts are a common component of loyalty programs, customers are increasingly demanding experiential rewards, such as access to exclusive events. Experiential rewards can also increase your brand's value and visibility because customers are more likely to share their experiences (versus a discount) with friends and family.
Providing flexible payment options
"Afterpay processes about 20% of our transactions," says Bruce. "Since implementing a Buy Now, Pay Later (BNPL) service a little over three years ago, we've experienced continuous growth."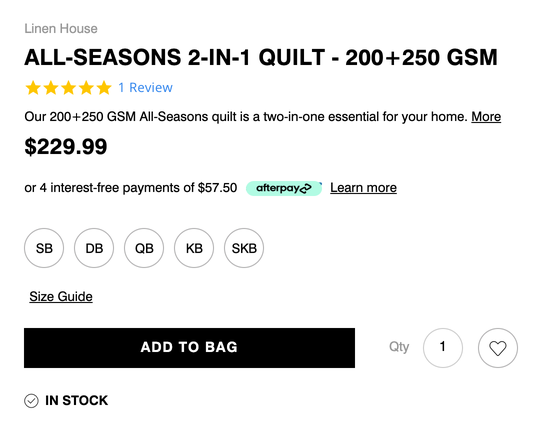 Pro tip: In addition to your home and checkout pages, BNPL information should be displayed in a number of places, including your banner ads, product category pages, and other landing pages where products or deals are advertised. The earlier in the purchase journey consumers become aware of BNPL payment options, the more likely they'll use them. 
And committing to making a positive impact
"From our very beginnings, Linen House still strongly believes that business can create a positive impact worldwide," says Julia. "We align ourselves with charity partners and get involved through product donations, volunteering, philanthropy, and social enterprise. Doing so ensures we maintain a bottom-line approach, which simultaneously focuses on profit, people, and the planet."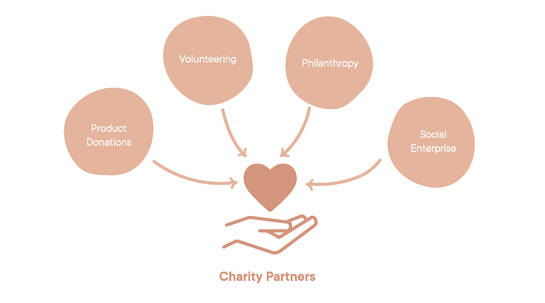 Pro tip: If your brand supports charity efforts, be sure that they resonate with your target audience. By supporting the causes your consumers care about, you gain their trust, attention, and respect.
Inspire and Be Inspired ✨
While Linen House has blossomed into a thriving business, both Bruce and Julia acknowledge that Linen House's success is partly due to the inspiring brands before them. "It's often said that the shortest path to greatness is to stand on the shoulders of giants," notes Bruce. "The beauty of online retail is that every great success is public — it's an opportunity to learn, borrow great ideas, and add our unique voice to make them our own."
Last updated on September 16th, 2022.