6 Tips for an Effective Pinterest Ad Strategy
Topics Covered:
If you're worried about the oversaturation of ads on Facebook and Instagram, we've got good news: Pinterest is a fantastic alternate option for increasing brand awareness, finding and keeping quality customers, and, ultimately, driving sales.
That's right — Pinterest offers far more than simply a place for brides-to-be, hands-on parents, and crafty hobbyists to share ideas, tips, and resources. Over the years, it's increasingly become a visual discovery engine where more than 431 million monthly active users — many with high purchasing intentions — can learn about new brands and find relevant products. (In fact, a whopping 97% of top searches on the platform don't cite a specific brand or business line.)
To reap the benefits of the social media channel, however, you must build a solid ad strategy — and, luckily, you've come to the right place. We're here to help with these six tips.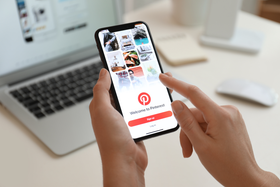 1. Identify Your Ad Objective
Once your Pinterest business account is locked and loaded (here's how to get that done!), you need to determine your Pinterest ad objective. Are you looking to build brand awareness or boost video views? Or perhaps, your goal is to increase the number of clicks on your social ads and, eventually, turn prospects into customers.
Knowing your Pinterest ad objective is more than just an item to knock off your strategy checklist. Your objective determines what ad formats you can use (which we'll cover in the next section) and how you bid in the Pinterest ad auction.
Launching ads on Pinterest works similarly to other platforms: You set a budget, which you'll use to "bid" for ad space or specific actions, such as a click or a conversion. Depending on your ad objective, you can either manually manage your bidding strategy or let Pinterest take care of it. (If you're interested in learning more about setting and editing your bids, check out this guide.)

2. Know the Ins and Outs of Pinterest Ad Types
To understand which type of Pinterest ad best suits your ad campaign, it's important to know the main four formats, which each allow a description of up to 500 characters:
Static ads include one featured image that uses either a PNG or JPEG file up to 20 megabytes in size. Best for brand awareness campaigns — especially paired with a landing page for long-form content  — static ads are simple, yet effective, ways of broadening your market reach.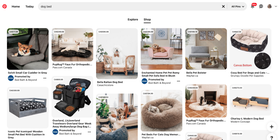 Video ads — great for tutorials and various types of user-generated content (UGC) — range in length from 4 seconds to 15 minutes. They can be the same width as a regular pin or stretch across an entire mobile screen. Since static images dominate the platform, video ads can be especially effective in standing out from competitor ads.

Carousel ads, most commonly used for influencer promotion, allow users to share information and images in a single, swipeable pin to display product reviews and step-by-step tutorials.

Shopping ads connect users to in-stock products they can browse or buy directly in the app, making this ad type especially convenient for sellers and buyers.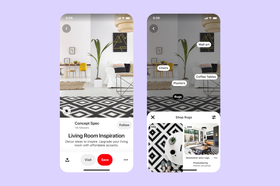 Remember how we mentioned that your ad objective influences what ad formats to use? If your goal is to, say, increase conversions, Shopping ads might make the most sense since shoppers will be able to purchase directly from your ad. On the other hand, static ads that show your products in action might be better for introducing who you are to potential customers and subsequently boosting brand awareness.
3. Target for Keywords or Demographics
If you list 50-plus keywords about your product in a pin (like "crockpot," "easy," and "healthy" if you're pinning a chicken recipe) and then continue to also select specific demographics like age, gender, or location for further segmentation, you're immediately and unnecessarily limiting your audience. In fact, filtering gender identification options alone causes sellers to miss out on 8% of customers registered as something other than male or female on the app. 
Therefore, to best maximize your site interest from Pinterest, target either keywords or demographics, not both.
4. Prioritize Stand-out Visuals
For ad campaigns that will convert even casual Pinterest users, they need to be more than just eye-catching. When making visuals for Pinterest social ads, make sure they're:
High quality — High-resolution, tall, vertical, and without overwhelming text

Aesthetically pleasing — Similar color palettes, symmetrical designs, simple lighting, etc. 

Consistently on-brand — Don't switch up your brand font, colors, and voice every other day

Searchable — As a loophole to the 500-count character limit across ad formats, consider adding simple text to the image itself but only if necessary.

Accessible and readable on all devices — Especially since the majority of Pinterest users will be on their mobile devices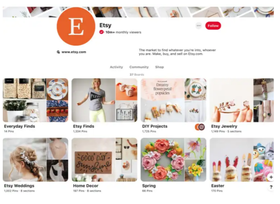 5. Learn From Other Social Platforms
While Pinterest shouldn't be downplayed or discounted as a powerful social media platform, there's no denying it's been all TikTok this and Instagram that as of late, which is why it's smart to take notes from them. Explore what's hot. Watch Reels, try out filters, and listen to viral hits — drawing inspiration from them to popularize your brand and product on Pinterest.
However, try not to be too similar to those apps — and their specific audiences and trends. Stay true to Pinterest users' interests and expectations. For example, it's important to ensure your ads don't exceed 15 seconds and that they include captions as Pinterest content often doesn't incorporate sound like TikTok and Instagram.
Additionally, be sure to include a variety of ages and bodies in your Pinterest ads (when applicable) so as to not exclude the ever-present and ever-important 30-something-plus adults with disposable income who use the platform, representing an astounding 90% of Pinterest users.
6. Measure Your Ad Efforts
No matter how effective you think your ad campaign is, you can't know for sure unless you track its performance. Gathering metrics — from pin impressions and engagements to video views and outbound clicks — will help you better understand your overall Pinterest presence and identify opportunities for improvement.
With Pinterest Analytics, you can:
View engagement for all your pins, including pin saves, clicks, and popularity.

Uncover account insights to get a clearer picture of how Pinterest users are interacting with content they save from your account.

Learn which topics are trending on the platform (based on buyer engagement) to build better, more relevant ad campaigns.
Seemingly everywhere you turn, a new social media platform is popping up — clamoring for your attention, time, and money to keep you ahead of the outreach game. By the time you learn how one operates and learn how it aligns with your business strategy, it's on to the next.
Fortunately, that doesn't seem to be the case with Pinterest. It's been around for over a decade and shows no signs of slowing down. If you implement these six tips, you can scale your business right alongside it.
Launch a Pin-Tastic Campaign With AdRoll
Do you want to run effective Pinterest campaigns but don't have the bandwidth to bring your vision to life? Save time with a Pinterest ad management tool and cross-channel marketing platform AdRoll — our automation builder helps you easily create, monitor, and optimize all your social media efforts in one single dashboard. Check it out today!
Last updated on May 10th, 2023.