Historic: 2022 CPM Trends in Holiday Advertising and What to Do
Topics Covered:
At the end of every year, shoppers start spending to fuel their holiday gift giving. In response, brands start to spend more on marketing, hoping to catch the eye of their ideal customer. 
For brands, this means more competition in the market and not just against your traditional product or service competitors. Like you, tons of companies are marketing toward and targeting ads to the same types of customers as you are.

Historically, that translates to a higher cost-per-"mille"(CPM) for each impression you serve. With more people competing for the same ad placements, you need an increasingly high bid to win a bid and actually serve an impression. In other words: you're going to be spending more if you want to reach the same amount of users.
What's the trendline prediction for 2022 and what should marketers do to be prepared for this seasonal change? Let's start by learning from the past.
Historical Holiday CPM Seasonality
2020 was a year of uncharted territory when it came to year-end CPMs. While uncertainty around the pandemic and its implications on ad performance metrics—including CPM—remained high, we saw that the almost traditional ramp in CPM trends toward the holiday season started in line with the trend we saw in pre-pandemic times.
2021 CPMs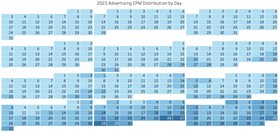 Take a look at this calendar. The darkest areas show how a gradual ramp starts around September, with an expected peak around Black Friday and Cyber Monday in late November. 
It's easy to see how CPMs start off lowest in the first half of the year and then start a trend upward toward the holiday season.
Predictions for 2022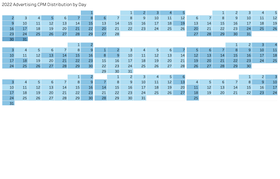 This brings us to modeling and forecasting. Based on data from the last few years, it is safe to assume that also this year the end of the year is going to be the most expensive time of the year when it comes to reaching people. With a higher baseline compared to previous years, even similar relative increases mean that you should expect significant higher CPM.
Baseline Changes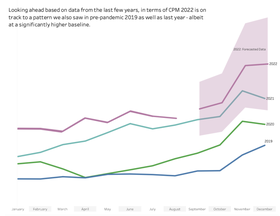 The pandemic showed us a clear example of how supply and demand shape CPM trends. In March of 2020, marketers responded to the pandemic by scaling down campaigns almost instantly, while at the same time more people than ever before were online (working from home, quarantaining, etc.) which led to a sudden dip in CPMs in April.
 In terms of CPM trends this year, we do not see any signs of a decrease in growth in 2022. In fact, we see quite the opposite: competition for ad placements are increasing, much in line with both last year and pre-pandemic 2019.
How Are Your Holiday Campaigns Affected by CPM Increases?
A higher CPM means that it is more expensive to reach your audience, which will have a trickle down effect in all the metrics you might use to measure the efficiency of your campaigns (ranging from cost per user reached, CPA, CPC, ROAS, etc.). Any time, but especially when impressions are more expensive, is a good time to reconsider and reprioritize the goals of your campaigns.
Your Goals, Metrics, Potential Changes, & What to Do
Does your campaign have… 
Conversion-driven goals measured by ROAS or CPA?
ROAS and CPA goals are generally used for conversion driven campaigns targeting an audience that is already familiar with your brand. While rising CPMs make it more expensive to reach these users, the silver lining is that your campaigns' CPA and ROAS are not going to be affected at a similar rate. 
After all, it is likely that you already invested in these audiences to get them engaged in the first place. With these users being relatively close to a conversion, it would be inefficient at best to help them with their final stretch in their customer journey.
In the end, it is more expensive to reach users in your campaigns, but due to the lower funnel nature of these campaigns—even a large increase in these costs is likely not worth it to stop targeting these users completely.
Goals to expand your targeted audience list?
It is important to keep in mind, while your CPA or ROAS is likely not to be impacted at the same rate as your CPM, as they targeted exclusively existing users, conversion driven campaigns like a retargeting campaign tend to be most impacted by rising CPMs. 
Consider increasing the size of your targeted audience as much as possible to avoid constraining potential bids to a very small group of users. How? Consider an increase in duration or widening the scope of your targeted audiences.

You should know: it is for this reason that we tend to see better performance for retargeting campaigns targeting a wide 1+ page viewed or 'all visitor' segment vs. retargeting campaigns targeting only a very high intent segment such as abandoned carts. It helps to give our bidders the freedom to cast a wide net in terms of picking up conversion signals; since users in a cart signal show more high-intent signals, we will likely end up bidding higher on these users anyway.
Traffic & engagement driven goals measured by CTR?
When your goal is ad-engagement (clicks on ads or driven website visits), you should know that your CTR is not directly tied to CPMs. Instead, you should look at it as a domino effect.

CPMs increasing= fewer impressions for the same amount of $= fewer clicks–even if your audience clicks through at the same rate as before the rise in CPMs.

What can you do? Optimize your creatives and test what works for you. Consider testing different call to actions in your ads or different creative strategies. The more your CTA stands out, the more likely you are to drive attention, and ultimately, influence visitors.
Brand awareness goals measured by impressions? 
While a higher CPM leads to higher cost per user reached, the good news is that due to their incredibly large potential audience, brand awareness campaigns targeted at users not yet familiar with your brand at the top of the funnel see a significantly lower CPM than lower funnel campaigns such as retargeting. By shifting budgets from lower to higher funnel campaigns, you can maximize your potential reach per dollar spend.
A Strategy to Try in 2022
Email + Ads
Email marketing hasn't lost momentum. Insider Intelligence calls it a "resilient" channel, and here at AdRoll we know that email + ads is a strategy that generates leads 2x as likely to convert and also convert 2x faster. By syncing your ads and email campaigns, you create a seamless marketing experience for your customers across channels. This is an opportunity to lean into each channel and craft consistent messaging and offers that help users convert.
Considerations for 2022
Marketers are feeling the need, more than ever, to strike an even greater balance between investments and returns. 2022 has held layoffs, reduced budgets, and inflation for many teams. However, the year has also seen an increase in creative advertising, a larger focus on brand purpose, and an increase in channel variety.

Some marketers are cutting costs across their channels entirely, while others are cited to watch more closely as to where their budgets are going, opting for more valuable channels to invest in, according to Digiday.

As we head into the end of the year, it's important for marketers to keep in mind what is to come: the holidays. Insider Intelligence reports, while there is a downturn in the economy, consumers will continue to make purchases and the buying behavior of consumers will inform marketing trends greatly. 
The important thing to keep in mind is that consumer sentiment is still increasing, which means that you still have the opportunity to connect with customers who are shopping. 
Better Data, Better Decisions
It's clear that optimizing your campaigns and their metrics is key in ensuring their success through the holiday season. No matter what the seasonal trends look like, being able to access all your data across channels always helps you make more informed decisions.
Last updated on August 14th, 2023.